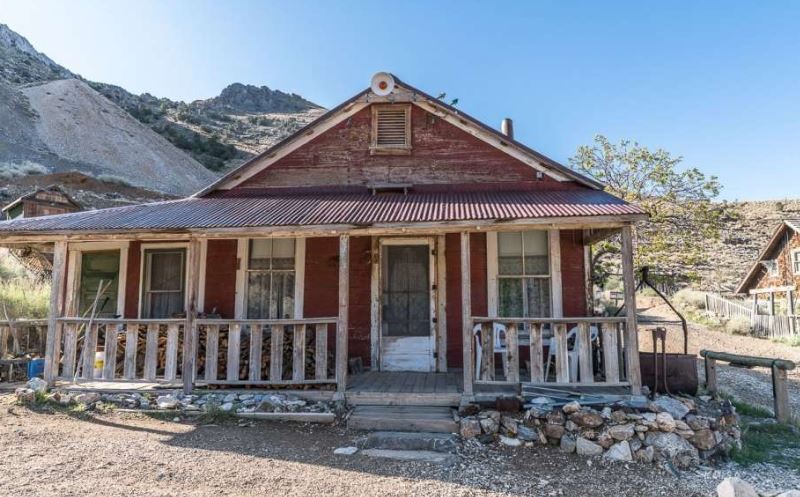 Hat tip to Eddie89 for alerting us to how the sale turned out:
A bidding war recently broke out over a prime piece of California real estate — and it wasn't for a tiny San Francisco condo.
In this case, a dozen offers were made for an entire town, the 19th-century mining hub of Cerro Gordo, on 300 acres in the Inyo Mountains outside Lone Pine, Calif. It was listed for for $925,000 in June and closed on Friday the 13th for $1.4 million.
"I would say the date was very coincidental," says listing agent Jake Rasmuson of Bishop Real Estate. "Strictly by chance but very fitting for the property."
The seller accepted an offer from a group of Los Angeles investors who plan to preserve the relic of the American West and keep it open to the public.
"We did have higher offers, however the sellers really liked the buyers' proposal and liked the buyers' plan," says Rasmuson.
Cerro Gordo has been in the hands of the same family for decades, and though privately owned, it was open to the public for tours. The owners were hoping to sell to someone who appreciates the property's history.
The buyers are Brent Underwood, who founded the youth hostel HK Austin and Jon Bier, who runs a public relations firm catering to athletes. The two teamed up with other investors to make the purchase; they include Ryan Holiday, former director of marketing at American Apparel; Tero Isokauppila, CEO/founder of superfood company Four Sigmatic; Brendan Gahan, CEO/founder of Epic Signal; George Rutolo, owner of The Whisky Bars; and Kelley Mooney, an en executive at Hulu.
"We want to maintain the historic nature of the property while introducing amenities that will allow more people to enjoy this piece of American history," Underwood says. "We have spent a lot of time with the current owners and caretaker to learn the history of the place. I've read all the books I can find on the town. I can't express our excitement to be able to continue the care of this beautiful location."
He adds that they also hope to eventually add overnight accommodations and events such as writing retreats, concerts, photo shoots, theater and more.
Silver was first discovered in the hills of Cerro Gordo in 1865, and in the following years prospectors flocked to its rich veins of silver. It became known as the "silver thread" to Los Angeles and silver was loaded onto mule trains and taken to the city. The town population swelled to some 5,000 at its height and quickly dwindled when silver prices dropped in 1877.
"We want to create a place that pays tribute to this historic part of American history," Underwood says.
https://www.sfgate.com/realestate/article/Cerro-Gordo-California-ghost-town-real-estate-13079866.php