Our YoY home sales are in decline, and it makes you think, 'Here we go again".
We know that sales are the precursor, and historically prices are the last to go.  But with so many different variables this time around, could it actually be different this time?
Let's consider the changes:
During the last two local declines (1992-1996 and 2007-2009), banks were the main culprits.  They were visibly foreclosing and dumping homes, which affected the whole marketplace. Regular home sellers were burdened with the lower comps, and had to give them away if they wanted to move.
But now they've changed the accounting rules for banks, and they don't have to dump everything they own.  In fact, they can do whatever they want now.
Remember this McMansion in Carlsbad?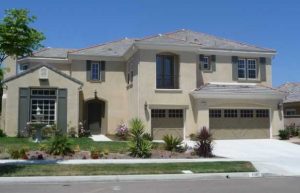 BofA first began the foreclosure process in 2011, but didn't get around to actually foreclosing until July, 2017 – six years later!  Then they off-loaded it to an investor in March, without having to put it on the open market.  Bernanke told bankers in 2011 not doing anything that would harm the economy, and they took him up on it!
I think it's safe to say that no matter how bad any future recessions might get, we don't have to worry about a flood of foreclosures ever again.
~~~~~~~~~~~~~~~~~~~~~~~~~~~~~~~~~~~~~~~~~~~~~~~~~~
Ok, so if the banks don't/won't foreclose and dump, then what about the institutional investors?  They are smarter and more nimble – certainly they will be selling once they sense the top!
Not so fast – according to the WSJ, investor buying is on the upswing:
An excerpt: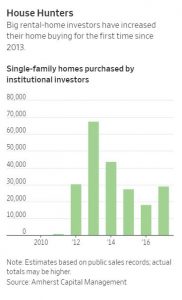 Wall Street is betting that more well-off Americans will want to be renters.
Financiers who loaded up on homes after the housing bust for pennies on the dollar are buying yet more—despite home prices in many markets being at all-time highs.
Their wager: High prices, higher mortgage rates and skimpy inventory are making homeownership harder. Well-to-do families who might have bought a single-family home in another era are willing to rent a house now, especially if it means access to a good school system.
The number of homes purchased by major investors in 2017 was at least 29,000, up 60% from the previous year, estimates Amherst Capital Management LLC, a real-estate investment firm that made nearly 5,000 of those purchases.
This year, investors have raised billions of dollars from bond buyers, pension funds and even wealthy Chinese individuals to purchase more homes. They have been particularly aggressive buyers in places like Atlanta, Phoenix, and other metro areas with good schools and faster-growing economies.
Cash to acquire and renovate homes has become so abundant lately that some rental investors can't spend it fast enough. Without enough homes to buy, some investors are now building their own in popular residential markets like Miami and Nashville, Tenn.—upending a traditional pattern of Americans buying starter homes and moving up.
"The American dream no longer includes homeownership," said Jordan Kavana, chief executive of Transcendent Investment Management LLC, a south Florida firm that has been a big acquirer of rental homes. "You will earn your equity in other ways, not your home."
Link to Full Article
The big-time Wall Street investors are betting on the affluent taking over the real estate market, and turning the country into a renter's society.  It may only affect 10% to 20% of the market for now, but that might be enough to keep it all propped up.
~~~~~~~~~~~~~~~~~~~~~~~~~~~~~~~~~~~~~~~~~~~~~~~~~~~~~
Local flippers and ibuyers are providing another floor.  Any homeowner that will sell for 10% under value today will have a host of choices to pick from.  If you play it right, and have a great realtor help you, it could turn it into a retail sale quite easily!
~~~~~~~~~~~~~~~~~~~~~~~~~~~~~~~~~~~~~~~~~~~~~~~~~~~~~
The biggest threat?  While there are still people underwater, today's market has to be the most equity-rich in history.  If sellers had to dump in order to sell, they could – and still make a profit.
But for there to be an extended trend of declining prices, there would need to be a series of sellers in the same neighborhood that were all in the same boat.  For now, we only see an occasional dump, and it doesn't need to be more than 10% off to attract a crowd.
With the vast majority of recent buyers having to qualify for their mortgage, and use a regular down payment in order to buy their house, you have to like the prospects of them fighting to hold on to it, no matter what.  Back in the last bust, too many people got in with little or no down payment, and got stuck with exotic financing that exploded on them.  Those days are gone.
We're most likely going to live in Stagnant City, with fewer sales in most areas.  But it's not the end of the world.
Get Good Help!