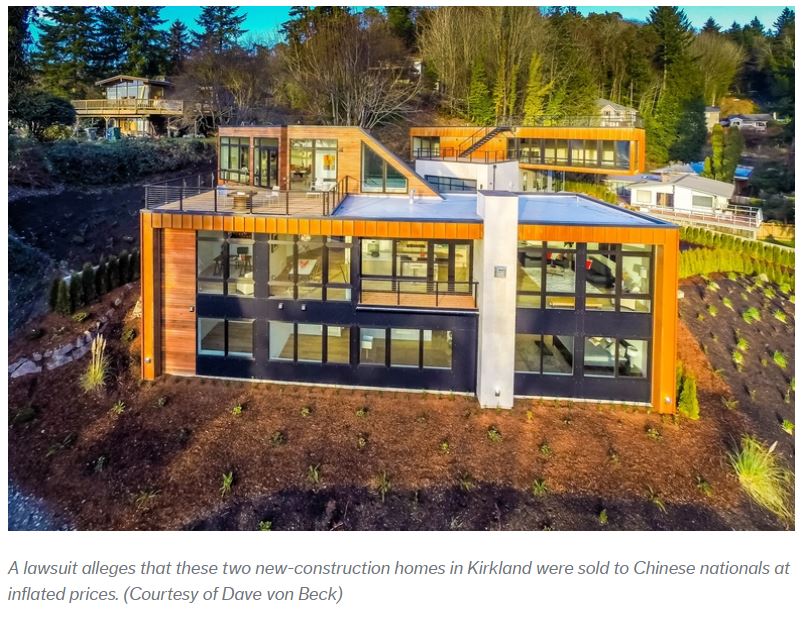 Another reason we should sell homes by live auctions…..Hat tip SM:
A local developer and prominent real estate agency conspired to prey on Chinese nationals and inflate luxury home prices on the Eastside for their own profit, according to a lawsuit filed in Seattle on Thursday.
Two plaintiffs who bought adjacent newly built homes in Kirkland allege that their broker at Realogics Sotheby's International Realty was actually working on behalf of the builder selling the homes.
Jie "Gabby" Jiao and the married couple Maoqi Zhang and Wei Fan hired Realogics Sotheby's broker Connie Blumenthal to buy their first homes in the United States in spring 2015.
Realogics has aggressively targeted luxury homebuyers in China and is one of the top brokerages for foreign buyers in King County, and Blumenthal has a glitzy website where she boasts her connections in Hong Kong and million-dollar home sales locally. The company and Blumenthal call the claims "baseless."
Both buyers relied heavily on the expertise of Realogics Sotheby's and Blumenthal to understand the local market. They were told there were multiple offers on the table and that they needed to bid more than $2 million each to buy the homes, west of Big Finn Hill Park, the lawsuit says.
But when they arrived in the area after the deals closed, they discovered the homes weren't as promised, and later found out there was no evidence that other buyers were interested in the homes — suggesting they had badly overpaid based on their agent's advice, the suit says.
One of the buyers, Jiao, was so dissatisfied with the home's condition — among other things, it did not have the promised backyard or bedroom lake views — that she put the house back on the market. Even with her new broker aggressively marketing the home and offering a free Mercedes to a potential buyer, she wound up selling it for $1.67 million last June — a $338,000 loss over a two-year period, despite the region's red-hot real estate market.
The other buyer's home is assessed at $1.46 million, or about $745,000 less than the couple paid.
The Chinese nationals' attorney, Dave von Beck of Seattle, said he found "what looks like collusion" between Blumenthal and the seller of the home, Alex Dudko of homebuilder Unique Design & Construction Co.
After issuing subpoenas in discovery, according to the suit, the attorney found emails and check stubs showing Blumenthal — the buyers' agent — was actually working directly with Dudko, the seller, at the time of the sale.
One check showed Dudko paid Blumenthal $20,000 after the sales for "services," according to the suit. The suit calls the payment a "kickback" for Blumenthal bringing the buyers to the developer.
In an email to Dudko around the time one of the sales closed, Blumenthal referred to a "bonus just between you and I."
"Let's meet for dinner and margarita's again when I get back!" Blumenthal wrote to Dudko. "I need a new handbag :)"
Read full article here: