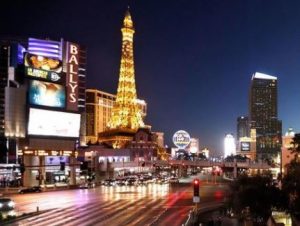 As home prices continue to escalate, the less-affluent folks are considering other options.  Will the imbalance catch up with us eventually?  If so, when?
Hat tip to daytrip for sending this in:
An excerpt:
Jonas Peterson enjoyed the California lifestyle and trips to the beach while living in Valencia with his wife, a nurse, and their two young kids. But in 2013, he answered a call to head the Las Vegas Global Economic Alliance, and the family moved to Henderson, Nev.
"We doubled the size of our house and lowered our mortgage payment," said Peterson, whose wife is focusing on the kids now instead of her career.
Part of Peterson's job is to lure companies to Nevada, a state that runs on gaming money rather than tax dollars.
"There's no corporate income tax, no personal income tax…and the regulatory environment is much easier to work with," said Peterson.
Some companies have made the move from California, and others have set up satellites in Nevada. California, a world economic power, will survive the raids, and it will continue to draw people from other states and around the world. Its assets include cutting-edge tech and entertainment industries, major ports, great weather and dozens of first-rate universities.
But the Golden State is tarnished and ever-more divided by a crisis with no end in sight, and this year's legislative efforts to spawn more housing for working people lacked urgency and scale. Slowly, steadily, and somewhat indifferently, we are burdening, breaking and even exporting our middle class.
Read full article here: