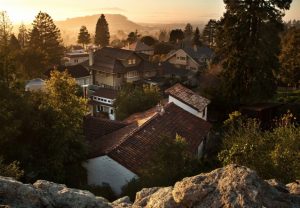 Two things never discussed about off-market sales:
1) Every agent signed an agreement to share their listings with other agents.
2) Nobody reads the forms before signing.

http://www.berkeleyside.com/2017/09/26/sell-east-bay-home-off-market-probably-not-exceptions/
When Barbara Hendrickson's 90-year-old neighbor needed to sell her Berkeley home, crammed with 40 years' worth of belongings, Hendrickson, a real estate agent, sold the house for her without putting it on the market.
"She was not up to the task of cleaning out all that stuff," said Hendrickson, an agent with Red Oak Realty. The off-market sale enabled the neighbor to quickly dispose of the house and move to Baton Rouge to be closer to relatives. The buyers took on the onerous job of clearing out the accumulated furniture and possessions.
In general, selling a house off-market isn't the best approach, experts say. The California Association of Realtors recommends against it, as do East Bay agents including Hendrickson. But sometimes, as in the case of Hendrickson's neighbor, there are exceptions.
To be clear, "selling off-market" means not listing the house on the local Multiple Listing Service, and is also described as off-market sales or pocket sales.
In preparation for open houses, and to get the best price, sellers often need to clear out what can be decades worth of possessions and spruce up the house, painting, repairing and possibly remodeling. The process can easily run $10,000 and up just for painting and repairs. Clutter must be cleared and the house must look pristine.
For most clients, the arduous process is worth it, paying off in higher home prices. But for some clients, it's just not worth it – or highly impractical.
"In certain circumstances, an off-market sale might be the best thing for a seller," said Patricia Bennett, president of the  Oakland-Berkeley Association of Realtors. "They might have limitations and not have mobility. It might be difficult for them to get out for open houses."
Noting, "We don't recommend (off-market sales) unless there are extenuating circumstances," Sheri Madden of Marvin Gardens Real Estate described one of the few such sales she has conducted. The sale took place in January.
"I had clients who absolutely did not want – they didn't want a For Sale sign in front of their house, they didn't want people coming through the house. They are super-private. They were adamant that they didn't want it on the MLS," Madden said.
At the same time, the clients wanted to get a good price – a difficult feat to pull off without maximum exposure, especially with this house.
"It was in Richmond Heights on the El Cerrito border, right next to a convenience store, so when you looked out the side window, you saw the market. It had a huge garage, which is not for everybody," Madden said.
While Madden was pondering how to handle the sale, her electrician told he needed to buy a warehouse – something difficult to find in the East Bay, and very expensive. The light bulb went on (so to speak).
"I told him I had clients who were selling a house with a large garage, with ceiling height that was extraordinary," the agent said. The electrician bought the property, "and it worked very well. The sellers were happy and the buyer was happy," Madden said.
Before she hooked them up, Madden asked the sellers if they would prefer that a different agent represent the buyer. The sellers gave permission for her to represent the buyer.
"This is an unusual situation that doesn't happen often," the agent said. "When you start limiting your audience, especially with a unique property, that is not advantageous at all.
"I have sold over 300 properties and have probably had about six (off-market sales) in the last 20 years," Madden said.
Hendrickson, who has been selling East Bay real estate for almost 40 years, has only done two such sales, she said.
The other sale was a commercial transaction. The property was a five-unit residential property in the Gourmet Ghetto.
The buyer was doing what's known as a 1031 exchange, meaning he had to buy a property in a set amount of time to avoid paying capital gains tax.
Hendrickson knew a savvy seller who had bought and sold many properties on his own who represented himself in the transaction "and was able to make this happen in the time frame the buyer needed," she said.
Ira Serkes, an agent with Pacific Union, agreed that some clients place a high value on privacy and may wish to sell off-market for that reason. Other reasons, he said, would be if the seller has valuables, artwork or priceless heirlooms they don't want the world to know they have.
One way to satisfy clients' privacy concerns is by having controlled showings, avoiding open houses and just showing the house by appointment, Serkes said. The agent has done this in the past for clients who didn't want open houses, he said.
"Listings sell for the highest possible price, in the shortest time, with the fewest problems, by marketing homes to all the agents and buyers in the market," Serkes said.
"If you sell off-market, the seller will never know if they could have sold for a higher price," he said.
The California Association of Realtors' position is that off-market sales negatively affect sellers' chance of getting the best price. The association in 2013 added a section to its residential listing agreement promoting the benefits of the MLS and warning against opting out. Sellers and brokers must initial the warning. The agreement is not required for California agents, but is widely used.
Most real estate companies will require an off-market seller to sign a document saying they are aware they are not going to get as much exposure as they would be by being on the MLS, Bennett said.
"They could get better terms and a better price (with a traditional market sale) because there would be more competition," Bennett said.
Serkes said, "This is the value of the MLS: Every time we get an additional offer (on the house) for our sellers, it will raise the price by four or five percent. So if you pick up even two or three more offers for the property, it's a 10-15% increase in value."
With the median price of a Berkeley home hovering around $1 million, a 10-15% increase is a tidy sum.
There is an online platform that can be used to gain exposure for off-market listings, though that isn't the site's primary purpose. Top Agent Network is an online agent networking site that facilitates communication between agents in the top 10% of their respective markets.
Founder David Faudman estimates that about 30% of the discussions involve off-market listings. However, these discussions primarily involve properties that are about to be listed on the MLS.
If a house is coming on the market and an agent wants to give it more exposure, the agent can designate it as "coming soon."
"It's for a sneak preview," said Bennett.
"It's not an either/or," said Madden. "Both the MLS and (the top agent network) can be a way of marketing a property. However, if you have an off-market sale and you want to broadly expose it, this network is a way to do that."