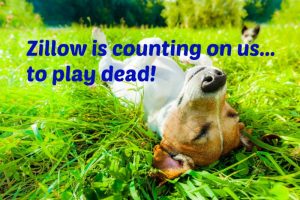 The fundraising has begun for the building of the realtor portal:
https://fundrazr.com/StopZillow-PreLaunchTeam
Greg should disclose the secret weapon mentioned – because if the new website isn't substantially better than Zillow, then we are wasting our time and money.  His list of features is not impressive, and no one is going to leave Zillow – consumers or agents – unless he has a spectacular idea up his sleeve.
Having our own portal is a good idea and within reach if every agent chips in a few bucks.  Are there enough who care?  Most will assume it is a duplication of the MLS and not really needed.
But the reason we need it is because having our own portal would help create the ultimate club for agents.  Let's build the portal outside of the N.A.R. and other top-heavy administrative bodies that suck down profits yet provide little if any benefits to agents themselves.
You would think groups like N.A.R., C.A.R., Zillow, big brokerages, etc., provide some structure for the industry, but they don't. Yes, there are rules, but nobody enforces them.  Brokers who are supposed to be supervising their agents will look the other way if it means making more commissions.
We don't even need rules – an agent's reputation among their fellow agents is enough to keep them in line.  The rule most broken is the sharing of listings with fellow agents, but that's been abused for so long that most agents don't remember signing that form when they joined the MLS.  We will have to live with single agency (aka dual agency for now), but it is already upon us anyway.
More of the upstart companies are choosing to advertise on radio and TV, and distorting the truth is widespread. If we eliminate all the unnecessary money-grubbing entities, be honest with ourselves and the public about the (no) rules, take the gloves off and fight it out with our fellow agents for the business while cooperating on our own powerful portal, then the best agents would survive – which is ultimately what the consumers deserve.