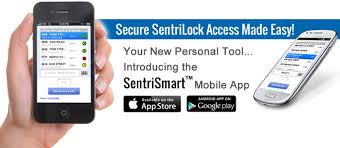 With the big cyber-attack today, let's touch on a local security issue that is hard to believe.  It didn't happen to me, but to a listing agent I know.
It involves the new mobile app for our MLS, which is touted as a more convenient way for agents to access the lockbox when showing the home at their scheduled time.
The mobile app allows a realtor to obtain an entry-code for any lockbox on the system – whether the agent owns the lockbox or not, which is a big change.
The breach of security happened when a buyer's-agent obtained an entry-code to a lockbox on an active listing – but she wasn't at the house, and didn't have an appointment.
She gave the code to her buyers, who let themselves in when the sellers weren't home – and the house was owner-occupied!
Then she did the same thing a second time, giving the potential buyers the code to enter the home on their own – when she is not physically on site and has not made an appointment.
The sellers came home while the buyers were in the house – it wasn't pretty!