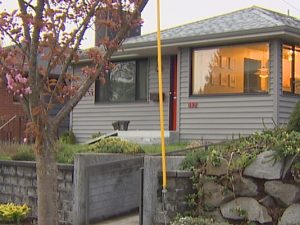 Yesterday it was Seattle that had the highest increase in their Case-Shiller Index, rising 12.2% Y-o-Y.  You know that frenzy fever is high when the quotes barely make sense:
Andrea Conway's home selling story has become the norm for Seattleites. She bought her Ballard home for a little under $500,000 around Easter 2014 and just sold it for more than $750,000
From the time they listed to the time they sold, the Conways, who are moving to California, had multiple offers and closed within a week. Realtors say that is very common right now for Seattle sellers. The buyers paid in all cash.
"Sellers are putting houses on the market, and it's just normal for things to sell above list price and in some cases well above list price," John L. Scott Realtor Carl Shaw said. "In a lot of cases, you're seeing anywhere from four-to-eight, up to 15 or 20 offers on houses."
The Conways say they may move back to Seattle in a few years, but right now they have decided to leave the city.
"We love it. We love the Seattle vibe, but the real estate market is so hot right now that we're not comfortable, and we really can't afford to put our money in this market right now," Conway said.
She has this advice for buyers.
"Be prepared to spend considerably more than the asking price, especially if it's in one of the hot neighborhoods like Ballard, or Fremont, or Wallingford, or West Seattle," Conway said.
Shaw told us that buyers should be prepared to have as much cash ready as possible or have complete loan approvals.
Shaw has been doing this for 28 years and says the only other time when he saw this hot of a job and housing market was in 2006.
"In that market (2006) we had a ton of inventory, we had builders with a ton of inventory, and the difference now is that we have really strong job growth and next to no inventory," Shaw added.
Next to no inventory is a tough reality for buyers, but for the Conways it is a blessing.
"We're thankful, and we'll see what the next adventure holds for us," Conway said with a smile.