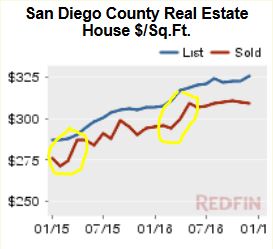 It's easy for me to say our local real estate market should get off to a fast start.
It's what we do every year!
Let's theorize why the pricing pops in Spring:
 Demand has been pent-up for 3-6 months; and buyers come out hungry.
 Virtually all sellers come out greedy, and tack on the extra 5% or so.
 But only the spectacular homes sell – those that deserve a price hike.
 The inferior homes don't sell, and clog the inventory.
You can see in the graph above that in the last two years, the cost-per-sf has jumped early.  But buyers only buy early if they see a spectacular house – it is too tempting to wait-and-see, rather than buy a fixer that's priced retail-ish.
As the selling season matures, the inventory swells with inferior homes that don't deserve the new pricing premium.  As buyers keep passing on anything that has been on the market for more than 30 days – figuring there must be something wrong if nobody else bought them – the demand intensifies around each of the occasional creampuffs that come to market
Home Sellers

Creampuffs – You can sell your well-appointed, attractively-priced home for a premium all year round. But this year, waiting until summer didn't get you any more money than you could have gotten in April, according to the graph above.  The San Diego Case-Shiller Index has risen only a cumulative 1.3% over the last five months, reflecting sales data back to March.
Inferiors – Those selling homes with partial or no remodeling/upgrading, bad locations, hard-to-show, or listed with bad agents will face increasing competition as time goes on – and they'll be piling up by May-June.  Most importantly, the pricing will be more suspect the longer that yours and others are lingering unsold.  List early, and get it done.
Home Buyers
Creampuffs – Buy early.  The competition for the well-appointed, attractively-priced homes will increase as the season rolls on.
Inferiors – Buy late.  Hope that fixer pricing is crushed by supply overload.
It will probably get harder to tell the difference between the creampuffs and inferiors as the selling commotion starts rumbling down the road.
Get Good Help!
Save