At first, this article below mentions that there has been 50% fewer repeat home buyers:

http://www.builderonline.com/newsletter/repeat-home-buying-has-fallen-drastically_c
Tight credit is making it hard for homeowners to trade up and out of their starter homes, according to findings from the Urban Institute's latest Chartbook.
Researchers looked at GSE & FHA loans (which made up the majority of the mortgage market except in 2004-2006) and noticed that starting in about mid-2007, the share of first-time home buyers has been consistently between 50% and 60%. Between 2001 and 2007 the share was much lower, with just 40% to 50% of borrowers buying for the first time. They took a closer look to determine if repeat home buying had truly fallen off or if there were just more purchase loans being made by first time home buyers and the same number of repeat buyers still active in the market.
Researchers found that while there were the same number of first-time home buyers in 2001 and 2015 – 1.3 million, there were about ½ as many repeat home buyers: 1.8 million vs. just over 900,000 in 2015.
Repeat home buying took a big tumble and just kept falling after 2007. And it's no coincidence that this happened at the same time it started to become really difficult to get a mortgage anywhere in the U.S. and hard to build home equity, thanks to dropping home prices.
In spite of fewer repeat buyers, their link to the most recent data showed that San Diego-Carlsbad HPI still went up almost 50% in the last seven years!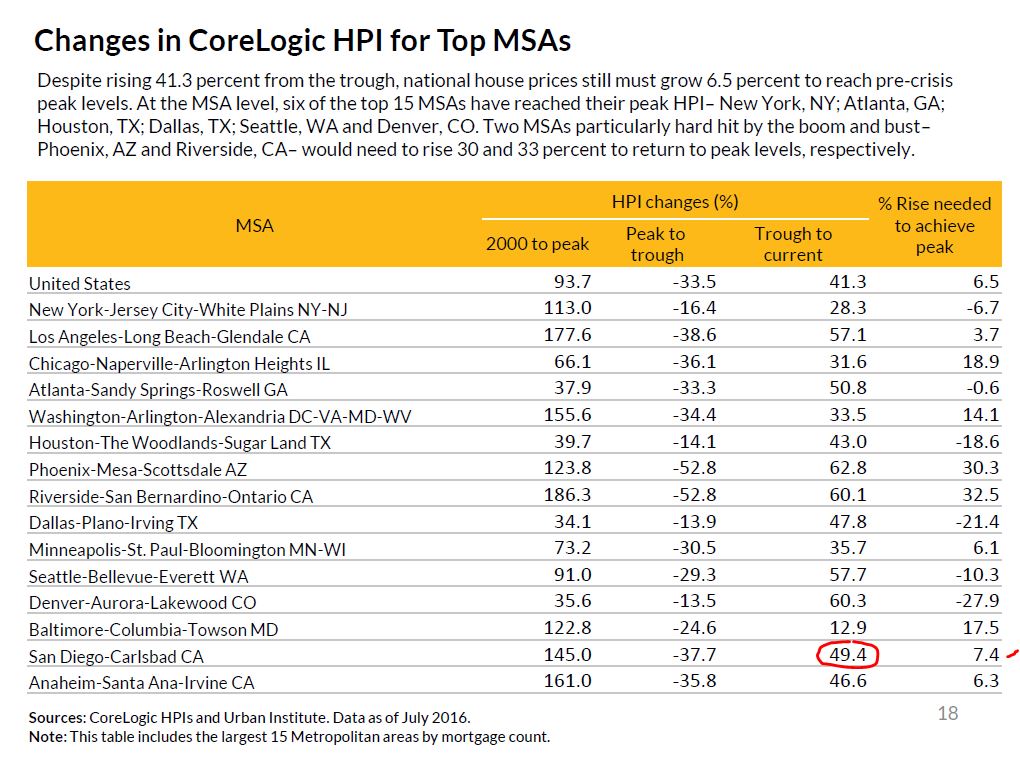 They said repeat buyers declined 50% between 2001 and 2015, but we had MORE sales between La Jolla and Carlsbad, in spite of almost 2x the pricing:
NSDCC Detached-Home Annual Stats
| | | | |
| --- | --- | --- | --- |
| Year | Total Number of Listings | Total Number of Sales | Median Sales Price |
| 2001 | 5,842 | 2,926 | $570,000 |
| 2015 | 4,910 | 3,024 | $1,098,000 |
| % chg | -16% | +3% | +93% |