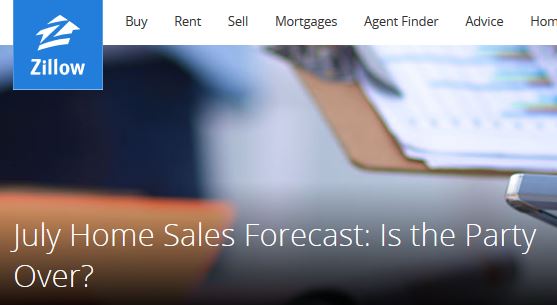 Zillow is the latest to suggest that the 'market' might be slowing.
But looking at their own graph, it looks like the monthly percent change begins to decline every year at the end of summer. The second graph also shows that sales are at a new peak – if it fell off a bit we should still be fine.
But all that matters is what readers glean from the headlines and a quick scan.
Maybe it's just a seasonal thing. This guy was spewing doomer talk in 2014!
http://www.marketwatch.com/story/this-house-market-is-falling-apart-2014-08-26
~~~~~~~~~~~~~~~~~~~~~~~~~~~~~~~~~~~~~~~~~~~~~~~~
From Zillow:
http://www.zillow.com/research/2016-july-home-sales-forecast-13087/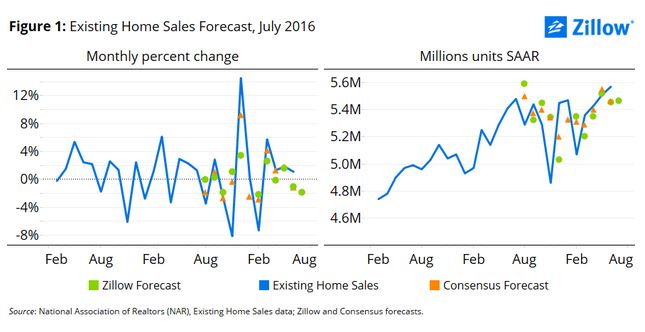 Zillow expects existing home sales to fall 1.9 percent in July from June, to 5.46 million units at a seasonally adjusted annual rate (SAAR), ending a string of four consecutive monthly gains.
New home sales should fall 6.65 percent to 553,000 units (SAAR) after a stronger than expected June.
Given the recent string of home sales beating forecasts, we view risks to the upside and would not be surprised if results are slightly stronger than we expect.
Thus far, it has been a pretty sweet '16 for home sales. But according to our July home sales forecast, the party looks like it could be coming to an end, at least temporarily and especially for sales of existing homes that must eventually face the harsh reality of tight inventory and rising prices.
Despite tight inventory, existing home sales have been surprisingly buoyant lately, beating or meeting expectations in each of the four months from March to June. We expect that streak to end in July. If nothing else, the odds that home sales continue to rise are increasingly dim. Since the series began in February 1999, runs of five months or more of consecutive monthly gains have only occurred five times – and only one of those streaks lasted six consecutive months or more.[1]
Shifting seasonal patterns may be behind some of this apparent resiliency. By some reports, the height of the home shopping season – historically most concentrated during the summer months – shifted earlier this year as buyers sought to get ahead of the competition. But sooner or later, tight supply and rising prices should take their toll.
Our forecast for existing home sales points to a 1.9 percent decline from June to 5.46 million units at a seasonally adjusted annual rate (SAAR) (figure 1). This would place existing home sales down 0.3 percent compared to a year earlier.
Read full report here:
http://www.zillow.com/research/2016-july-home-sales-forecast-13087/
Save