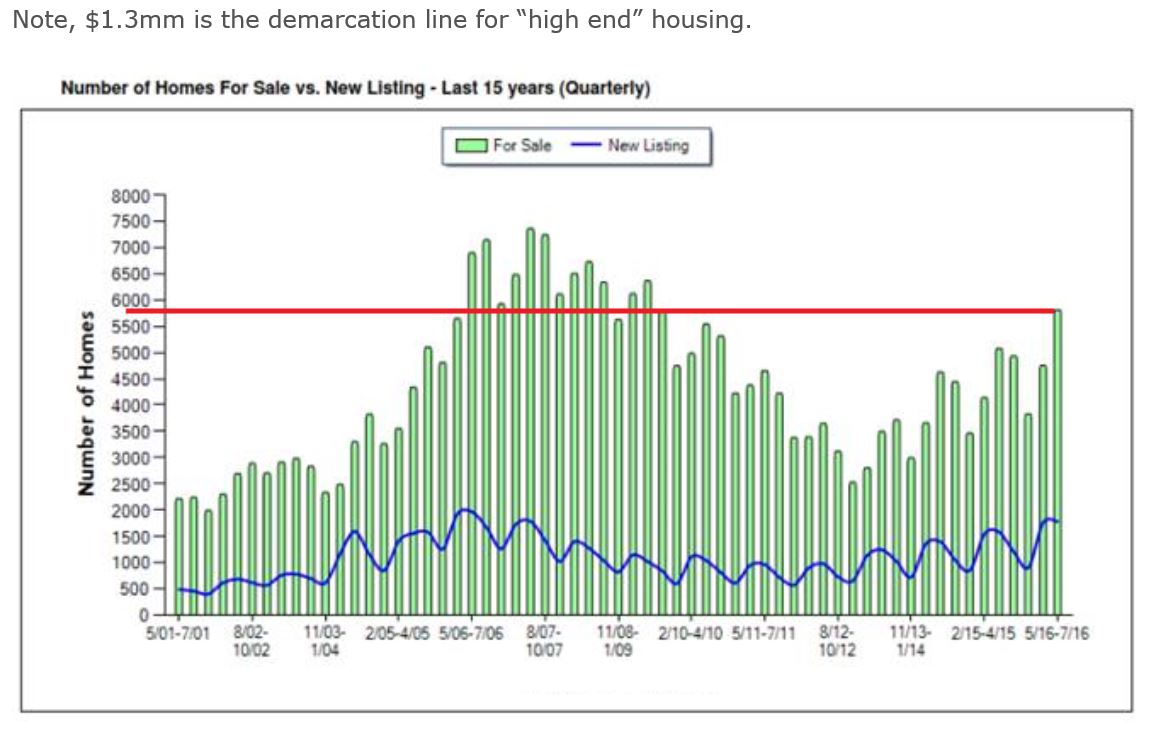 Our favorite doomer went off again this week, focusing on how the high-end inventory has grown recently in the hot markets:
http://mhanson.com/8-9-hanson-house-supply-surging-time-highs-toxic-trend-change-suddenly-focus/
The graph above shows the inventory of Orange County homes listed for $1,300,000 or higher (San Diego wasn't included but is similar to the OC).
Mark likes to believe that prices have to fall – his quote:
In other words, higher-end real estate prices have much more air underneath them than lower-end prices have air above them. The resulting house price compression will accelerate taking all price bands lower until the higher-end housing market can catch a macro bid.
Here is how inventory in our higher-end areas have changed since May 26, 2015:
| | | | |
| --- | --- | --- | --- |
| Area | 5/26/15 Actives | Today's Actives | Diff |
| Del Mar & Solana Beach | 73 | 99 | +36% |
| Encinitas | 91 | 110 | +21% |
| La Jolla | 185 | 218 | +18% |
| RSF | 237 | 275 | +16% |
| Carmel Vly | 116 | 126 | +9% |
Yep, our inventory in the tonier parts of town is higher but it has been so low lately that an extra 20-40 or so houses on the market in each area isn't going to hurt much.  These are the only numbers I have for comparison, and May vs. August isn't that great either – there is more build up of the unsuccessful sellers in every August.
Most importantly, the high-end sellers have more horsepower – they can hold out longer, and in most cases, will only sell if they get their price.
Rancho Santa Fe has been the harbinger of what we can expect elsewhere – lots of listings sitting around not selling, but few lowering their price – they are happy to wait.
Unless we get a surge of boomer liquidations, the worst thing that will happen is the whole high-end market will go stagnant.
~~~~~~~~~~~~~~~~~~~~~~~~~~~
If you have concerns, just buy in Carmel Valley. In the first 7 months of 2015, there were 276 houses sold in the 92130, and this year there were 321 – a 16% increase!  And that doesn't include the 100+ new CV homes sold this year.
Carmel Valley pricing statistics have been flat though. The average cost-per-sf only went up from $413/sf to $419/sf, and the median sales price actually went down from $1,178,000 to $1,124,000.  It's probably a reason why they've had so many sales!