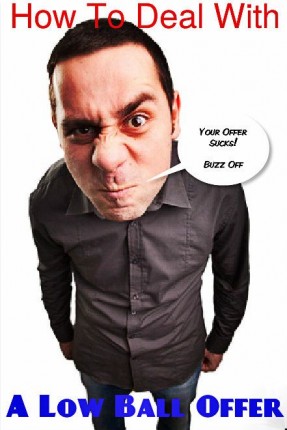 Have you seen a home sale close at a surprisingly-low price, and you said,
"Geez, I would have paid that!"
Usually the house has been on the market for months, and everyone else has forgotten about it. The seller doesn't want to lower the price, but tells his agent, "Just bring me an offer".
The agent revises the MLS remarks, adding gems like 'Extremely Motivated', and 'All Offers Considered".  A buyer who saw it earlier with another agent decided to approach the listing agent directly with an offer 20% below list – take it or leave it.
With visions of two commissions twirling around in their head, the agent tells the seller this is the best they could do. The seller really is motivated, so after months of failure at a too-high price, frustration sets in and he signs it.
If any seller is tempted to take a lowball offer – more than 10% below list – they should instruct the listing agent to immediately lower their list price to the midpoint between the offered price and current list price.
Let's see who else is out there!
Watch how many you see that close at 15% to 20% below list and the listing agent represents both parties.  It isn't enough to change the market, but a notable strategy.
You shouldn't burn your old agent though – there are enough listing agents who are wimpy about dual agency and prefer that you have your own agent anyway. It is the same net to the seller, so he won't care either.