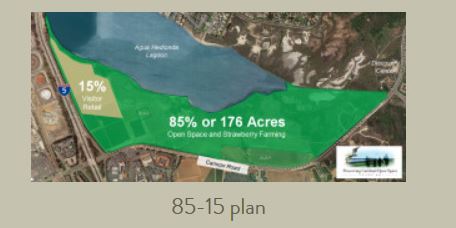 There has been vocal opposition to the Nordstrom development proposed for Carlsbad, and it's only right that people have a chance to review the project.  Here is your chance:
A group supporting a proposal to create a 26-acre development near Agua Hedionda Lagoon is inviting Carlsbad residents to learn more.
Open space tours will be held July 18, Aug. 1 and Aug. 15 from 10 a.m. to 1 p.m. so that attendees can learn more about the "85/15 Plan."
Onsite transportation, food and drinks will be provided.
Tours start at the Carlsbad Strawberry Company parking lot, located at 1050 Cannon Road.  Interested attendees can sign up at  www.openspacetherightway.com/tours/.