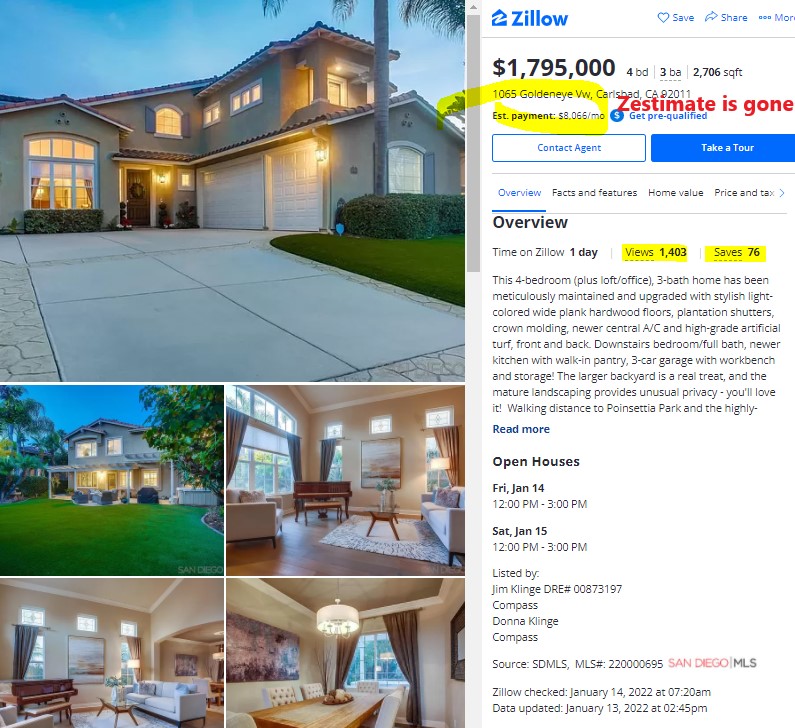 To demonstrate the imbalance between the supply and demand, look at the view counts of our new listing on the two search portals in the first 33 hours on the open market:
Views: 3,051
Saves/Favorites: 171
I received three phone calls from agents letting me know that they have interested buyers and will be attending the open house today – part of the rapport-building process that some have included in their repertoire of buyer-positioning tactics. One agent implored me to do a James Bond video, and even though Mitch has his Aston-Martin available, I had trouble getting into my black suit!
There were THREE other agents who requested an earlier showing time, so I'm getting started at 11:30am today to accommodate. On a Friday morning!
How pent-up is the demand coming into 2022?
Sacramento isn't the same as us, but consider: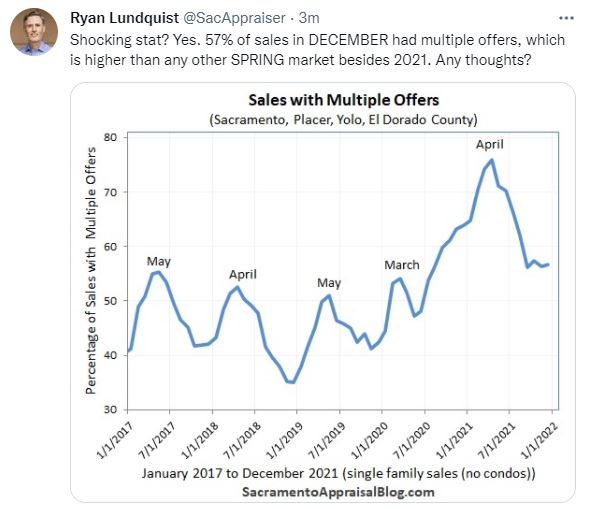 If there are multiple offers, what else can buyers do to compete, besides price?
Butter up the listing agent. It doesn't work with me, but most listing agents want to select somebody who they like to be the winner. They justify it with it being a 'good match for the neighborhood' or some other garbage, but it is pure discrimination – though completely unconscious.
Bring the kids, for the same reason above. If you don't have kids, grab an infant on your way over.
Figure out if there is any predetermined process for selecting the winner. When I ask a listing agent this question, at least 90% of the time the answer is "I don't know, I let the seller decide".
Big down payments, and big deposits. Though the chance of the buyers cancelling is the same, the naïve listing agents think those mean something.
Ask for seller disclosures, and if there is anything unusual, then waive that contingency.
Spend a lot of time at the house. It makes you look like you're serious.
Be one of the first visitors, and the first offer. It impresses most listing agents, and mentally they have designated you as the probable winner.
At an open house last year, an agent brought me a sandwich. He still lost, but I'll never forget it!
I heard an agent say, "If my buyers like the house, I tell them to offer $100,000 over list. If they love it, I tell them to offer $200,000 over list".  A great example of how dumbed down the business is!
Besides, buyers are doing better than that:
Ok I'm officially calling the top of the housing market. @michaelbatnick @awealthofcs pic.twitter.com/mMsQqWNbIr

— TJC (@LM7829) May 23, 2021