It was 18 years ago today that I started writing this blog.
It was a Saturday morning. I set up a free account at squarespace to get it started, and it was solely because I expected every other realtor to do a blog too. Funny how that turned out!
Donna said, "Yeah well fine, just don't spend too much time on it."
I've been a part-time blogger ever since!
It was in August, 2005 when our escrow officer called me to say the buyer of one of our listings was objecting to signing the loan documents. Their realtor/lender beat me over there, and I heard her telling the buyer, "No worries, we will refinance". It was one of many things that were happening then that led me to start the blog (the home got foreclosed 22 months later).
This is my first blog post, and it still resonates somewhat today: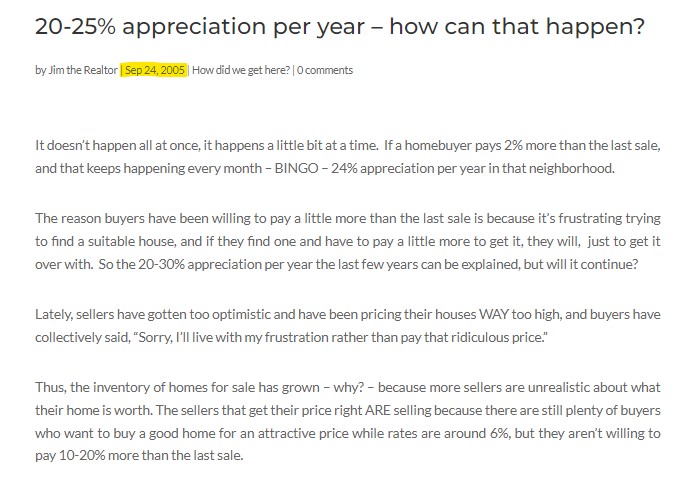 Housing blogs were becoming popular and I commented regularly elsewhere. It caused more people to discover what I was doing – and to slam me just because I was a realtor, even though I was being pretty gloomy. By 2009, I had picked up quite an audience, and enough attention that the LATimes picked up on the blog, which led to this piece by ABC News Nightline:
The ABC TV spot ran in April, 2009, which coincidentally was the trough of the San Diego Case-Shiller Index. The audience here exploded, and at the same time the bank-owned listings being sent to us increased substantially. We sold 72 homes in 2009, our all-time high!
All kinds of crazy things have happened.
For example, we monitored the Jenae scandal in Bressi Ranch and La Costa Valley where she and co-conspirators were doing seminars and selling homes to unsuspecting suckers who financed their purchases 100%. Jenae promised to rent them out but they were adding $100,000 to each purchase price that was kicked back to her partner John as a tenant-acquisition slush fund. He finally went to jail but Jenae claimed she was duped too and she is still selling homes around the county today.
My life was threatened a couple of times, I've evicted dozens of people, I've been in a movie, and on CNBC TV (twice), plus I've been on ReasonTV, and in Grant's Interest Rate Observer (on October 3, 2008 for those who have access). I've been on industry panels, I've been an expert witness in court, I made a citizen's arrest of squatters, and I've met with the FBI to turn in scamming realtors…..among other things!
I've had 12,101 blog posts here with 68,179 comments and 3,000+ Youtubes with 2,341,000+ views, plus 14,200+ tweets. It has been one heck of a ride – let's keep it going!
Thanks to readers everywhere, and a special acknowledgement of those who have utilized our real estate services over the years. It is why I do this blog, and I appreciate your support!