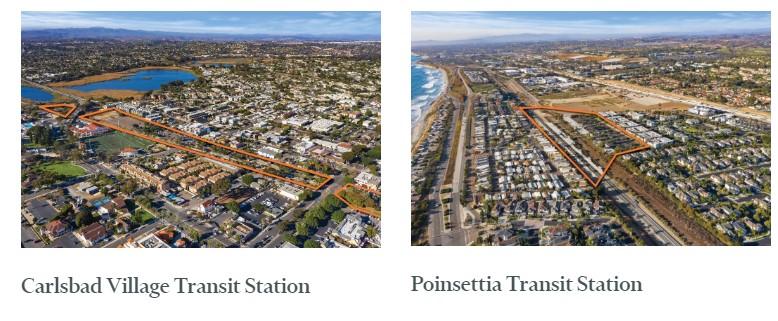 As a way to "raise additional revenue and to increase ridership on trains and buses", the train people started looking for developers last April – their solutions:
Under agreements the board approved Thursday, West Village Partners will build 184 market-rate apartments or townhouses and 50 affordable units on 14.37 acres the transit district owns at the downtown Carlsbad Village Station on State Street.
Affordable housing will make up 27 percent of the Village residential units, well above the city's minimum requirement of 15 percent. The Village project also will include 17,000 square feet of ground floor retail space, 435 parking spaces, a 110-room boutique hotel, a senior living facility, and 80,000 square feet of office space, according to preliminary plans.
"This location is primed for redevelopment with only a short walk to restaurants, retail and local beaches," a district staffer said.
The Village station sees an average of 800 patrons daily, with about 600 of those riding the Coaster and 200 using Breeze buses. The Poinsettia station, on Avenida Encinas near Poinsettia Lane in southwest Carlsbad, averages 400 Coaster riders and about 40 bus riders daily.
Raintree Partners was selected for the 11.47-acre Poinsettia Station, which will have 146 market-rate dwellings and 31 affordable units, or 17 percent of the residences. Almost 5 acres of the site will remain undeveloped under a permanent conservation easement.
Both exclusive negotiating agreements are valid for 2.5 years. During that time, the developers will work with district, city and regional officials on final designs, permits, and other issues. Construction is expected to start in 2025 at the Village station and in 2027 at the Poinsettia station.
Just another 234 apartments, a 110-room hotel, senior facility, and ~100 offices in downtown Carlsbad.  You think it's crowded now? There won't be any room left for the tourists!
Link to UT Article