The reason for breaking down the active and pending listings by zip code is to give the readers a closer look at their neighborhood stats. Typically, we've considered any market to be healthy that has a 2:1 ratio between active and pending listings.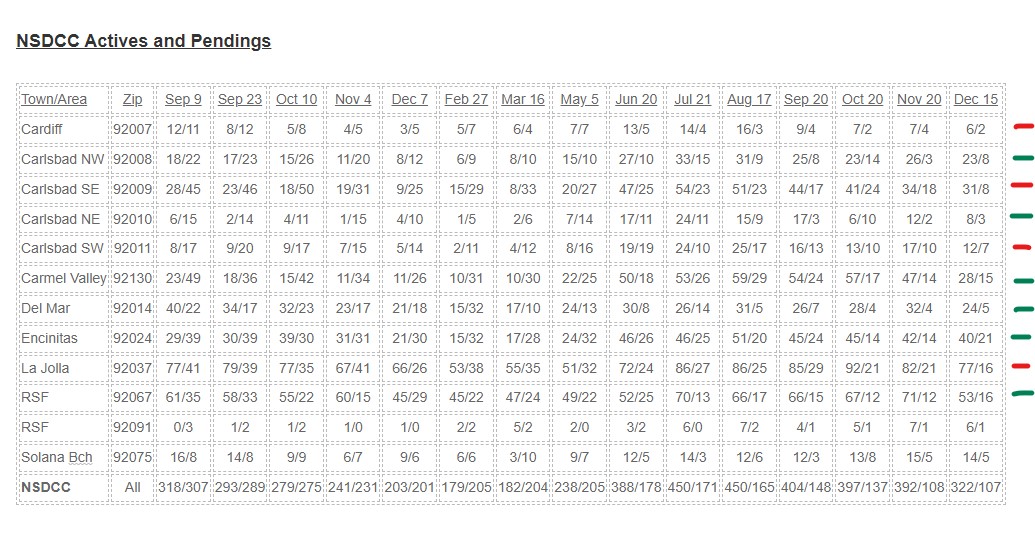 SW Carlsbad, Carmel Valley, and Encinitas all have a ratio that is better than 2:1 – and we are half way into December!  Six areas (in green) have more pendings today than they did before Thanksgiving!
I'm declaring victory for 2022.
We survived the fastest rise in mortgage rates in history, and not only are sales still happening (38 closed in December so far, so we should get close to 100), but the new-pendings count has been hanging tough too.
Observations:
No flood of inventory…..yet.
The number of actives is way down but not out.  It must mean that those still on the market really do want to sell.  Even though most of them are probably having no showings, at least they are willing to stick it out, just in case. It should give us more to work with in January.
Mortgage rates are getting closer to 5%. You can get a jumbo today in the low-5s.
The Fed doesn't open its big yap again until February 1st.
Maybe we can get a quicker start in 2023?  If buyers are on vacation and come back next month to see some price reductions, we could have a decent January too.