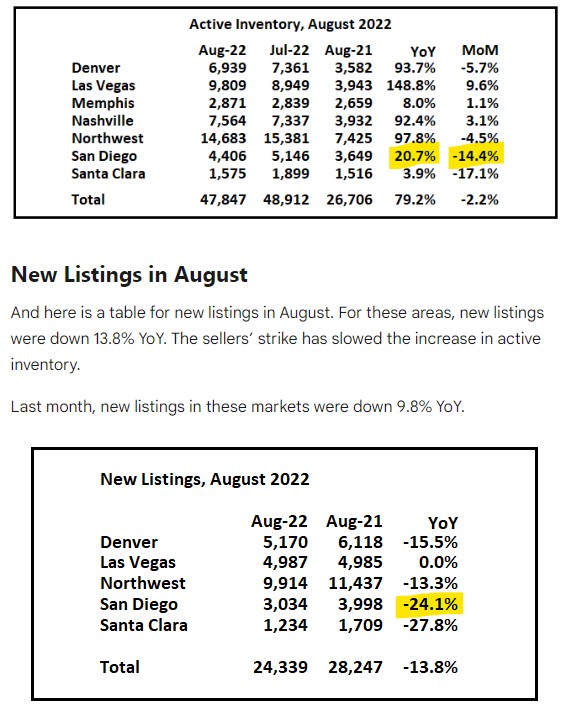 Above, Bill shows how the number of new listings is dropping off in San Diego.
Yes, in the top chart, there were 20.7% more active listings YoY because you can wrongly price a listing today. Last year, just about everything was selling, which is very unusual!
In August, 2019, there were 3,007 detached homes listed for sale in San Diego County, and 67% of them sold.  Last August, there were 2,608 detached homes listed for sale, and 83% of them sold!
We don't want to get alarmed by any comparisons to the Uber-Frenzy of 2021.
The counts are a little different in this graph, but you can see the huge differences between the pandemic inventory, and normal times.
Today, there are 2,859 active listings of detached-homes in San Diego County.  I won't be looking for the panic button until that number gets over 6,000 – which may never happen again:
As recently as 2018, there were 10,000+ houses for sale, and today there are fewer than 3,000?
If there was any panic, it would be because the market isn't correcting – it's shutting down: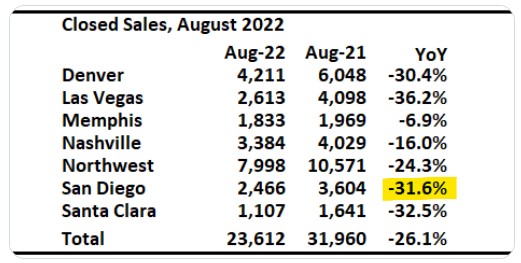 https://calculatedrisk.substack.com/p/1st-look-at-local-housing-markets-86d