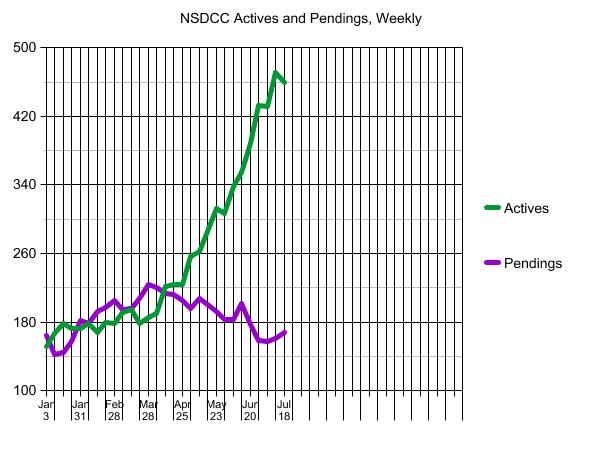 Today's hopeful home sellers aren't going to take much more of this.
If they don't find a buyer in the next couple of weeks, they will assume that the market conditions aren't conducive to selling…..at least not for their price.  They will pack it up and try again some other day, rather than lower their price.
I'm guessing that we will have less than 400 active NSDCC listings by September 1st (today's count is 459).
The same with pricing – this is about all we're going to see this summer: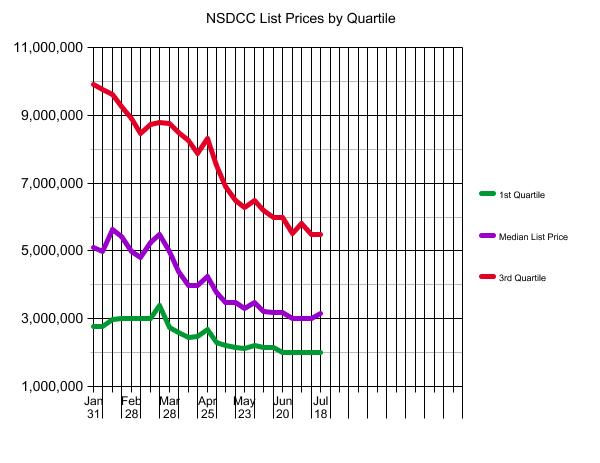 Congrats to Kelly and team:

~~~~~~~~~~~~~~~~~~~~~~~~~~~~~~~~~~~
The $0 – $1,500,000 Market:
| | | | | |
| --- | --- | --- | --- | --- |
| Date | NSDCC Active Listings | Avg. LP/sf | Avg. DOM | # of Pendings |
| Jan 3, 2022 | 9 | $832/sf | 35 | 36 |
| Jan 10 | 9 | $766/sf | 28 | 29 |
| Jan 17 | 13 | $773/sf | 26 | 27 |
| Jan 24 | 9 | $818/sf | 15 | 29 |
| Jan 31 | 14 | $752/sf | 14 | 31 |
| Feb 7 | 13 | $774/sf | 12 | 32 |
| Feb 14 | 11 | $826/sf | 12 | 35 |
| Feb 21 | 7 | $889/sf | 17 | 38 |
| Feb 28 | 12 | $888/sf | 17 | 33 |
| Mar 7 | 9 | $1,017/sf | 21 | 33 |
| Mar 14 | 14 | $847/sf | 18 | 31 |
| Mar 21 | 8 | $912/sf | 26 | 36 |
| Mar 28 | 10 | $914/sf | 25 | 28 |
| Apr 4 | 10 | $782/sf | 33 | 34 |
| Apr 11 | 19 | $733/sf | 21 | 36 |
| Apr 18 | 16 | $795/sf | 28 | 34 |
| Apr 25 | 18 | $891/sf | 27 | 30 |
| May 2 | 22 | $822/sf | 23 | 31 |
| May 9 | 24 | $887/sf | 17 | 46 |
| May 16 | 25 | $783/sf | 22 | 25 |
| May 23 | 29 | $782/sf | 23 | 29 |
| May 30 | 30 | $782/sf | 24 | 28 |
| Jun 6 | 34 | $763/sf | 25 | 28 |
| Jun 13 | 33 | $802/sf | 29 | 29 |
| Jun 20 | 48 | $774/sf | 28 | 22 |
| Jun 27 | 43 | $755/sf | 32 | 22 |
| Jul 4 | 49 | $757/sf | 33 | 23 |
| Jul 11 | 56 | $757/sf | 35 | 22 |
| Jul 18 | 51 | $741/sf | 38 | 24 |
The $1,500,000 – $2,000,000 Market:
| | | | | |
| --- | --- | --- | --- | --- |
| Date | NSDCC Active Listings | Avg. LP/sf | Avg. DOM | # of Pendings |
| Jan 3, 2022 | 8 | $842/sf | 52 | 36 |
| Jan 10 | 13 | $751/sf | 28 | 29 |
| Jan 17 | 16 | $736/sf | 33 | 27 |
| Jan 24 | 16 | $801/sf | 17 | 27 |
| Jan 31 | 15 | $696/sf | 14 | 34 |
| Feb 7 | 15 | $765/sf | 17 | 34 |
| Feb 14 | 10 | $726/sf | 19 | 38 |
| Feb 21 | 19 | $715/sf | 15 | 39 |
| Feb 28 | 9 | $660/sf | 12 | 46 |
| Mar 7 | 16 | $789/sf | 15 | 46 |
| Mar 14 | 17 | $837/sf | 8 | 44 |
| Mar 21 | 18 | $867/sf | 11 | 43 |
| Mar 28 | 14 | $838/sf | 15 | 48 |
| Apr 4 | 18 | $762/sf | 25 | 42 |
| Apr 11 | 23 | $774/sf | 15 | 39 |
| Apr 18 | 22 | $792/sf | 17 | 41 |
| Apr 25 | 18 | $810/sf | 20 | 41 |
| May 2 | 27 | $809/sf | 17 | 37 |
| May 9 | 33 | $837/sf | 17 | 46 |
| May 16 | 39 | $793/sf | 19 | 44 |
| May 23 | 43 | $793/sf | 22 | 44 |
| May 30 | 36 | $843/sf | 23 | 36 |
| Jun 6 | 43 | $817/sf | 23 | 41 |
| Jun 13 | 49 | $845/sf | 24 | 42 |
| Jun 20 | 57 | $817/sf | 24 | 41 |
| Jun 27 | 75 | $807/sf | 24 | 35 |
| Jul 4 | 70 | $827/sf | 27 | 33 |
| Jul 11 | 71 | $812/sf | 30 | 38 |
| Jul 18 | 74 | $793/sf | 32 | 35 |
The $2,000,000 – $3,000,000 Market:
| | | | | |
| --- | --- | --- | --- | --- |
| Date | NSDCC Active Listings | Avg. LP/sf | Avg. DOM | # of Pendings |
| Jan 3, 2022 | 18 | $1,080/sf | 127 | 43 |
| Jan 10 | 23 | $1,038/sf | 85 | 37 |
| Jan 17 | 26 | $1,044/sf | 80 | 41 |
| Jan 24 | 28 | $1,015/sf | 37 | 42 |
| Jan 31 | 22 | $949/sf | 38 | 47 |
| Feb 7 | 26 | $919/sf | 29 | 42 |
| Feb 14 | 22 | $997/sf | 37 | 49 |
| Feb 21 | 21 | $966/sf | 33 | 54 |
| Feb 28 | 26 | $905/sf | 32 | 57 |
| Mar 7 | 29 | $922/sf | 28 | 57 |
| Mar 14 | 20 | $852/sf | 26 | 58 |
| Mar 21 | 17 | $928/sf | 26 | 60 |
| Mar 28 | 34 | $927/sf | 12 | 65 |
| Apr 4 | 32 | $927/sf | 20 | 69 |
| Apr 11 | 44 | $910/sf | 17 | 62 |
| Apr 18 | 48 | $997/sf | 19 | 66 |
| Apr 25 | 42 | $1,092/sf | 18 | 73 |
| May 2 | 54 | $995/sf | 19 | 70 |
| May 9 | 61 | $910/sf | 20 | 73 |
| May 16 | 64 | $977/sf | 22 | 69 |
| May 23 | 82 | $953/sf | 25 | 59 |
| May 30 | 78 | $951/sf | 27 | 56 |
| Jun 6 | 94 | $963/sf | 27 | 58 |
| Jun 13 | 98 | $961/sf | 28 | 70 |
| Jun 20 | 91 | $935/sf | 32 | 59 |
| Jun 27 | 111 | $894/sf | 30 | 60 |
| Jul 4 | 112 | $910/sf | 33 | 60 |
| Jul 11 | 122 | $912/sf | 34 | 56 |
| Jul 18 | 103 | $893/sf | 39 | 68 |
The $3,000,000 – $4,000,000 Market:
| | | | | |
| --- | --- | --- | --- | --- |
| Date | NSDCC Active Listings | Avg. LP/sf | Avg. DOM | # of Pendings |
| Jan 3, 2022 | 19 | $1,230/sf | 90 | 26 |
| Jan 10 | 22 | $1,210/sf | 76 | 25 |
| Jan 17 | 19 | $1,207/sf | 86 | 23 |
| Jan 24 | 17 | $1,129/sf | 92 | 24 |
| Jan 31 | 21 | $1,172/sf | 70 | 22 |
| Feb 7 | 19 | $1,169/sf | 67 | 25 |
| Feb 14 | 19 | $1,234/sf | 65 | 28 |
| Feb 21 | 21 | $1,279/sf | 69 | 28 |
| Feb 28 | 22 | $1,214/sf | 64 | 25 |
| Mar 7 | 27 | $1,295/sf | 60 | 24 |
| Mar 14 | 27 | $1,201/sf | 65 | 27 |
| Mar 21 | 23 | $1,282/sf | 69 | 31 |
| Mar 28 | 25 | $1,253/sf | 67 | 30 |
| Apr 4 | 30 | $1,199/sf | 61 | 27 |
| Apr 11 | 32 | $1,174/sf | 62 | 31 |
| Apr 18 | 33 | $1,216/sf | 68 | 31 |
| Apr 25 | 33 | $1,219/sf | 63 | 33 |
| May 2 | 37 | $1,164/sf | 50 | 36 |
| May 9 | 33 | $1,132/sf | 57 | 32 |
| May 16 | 40 | $1,119/sf | 53 | 32 |
| May 23 | 40 | $1,135/sf | 57 | 27 |
| May 30 | 40 | $1,178/sf | 61 | 28 |
| Jun 6 | 43 | $1,224/sf | 56 | 28 |
| Jun 13 | 48 | $1,184/sf | 52 | 28 |
| Jun 20 | 52 | $1,117/sf | 53 | 26 |
| Jun 27 | 60 | $1,120/sf | 51 | 19 |
| Jul 4 | 55 | $1,127/sf | 58 | 23 |
| Jul 11 | 68 | $1,140/sf | 47 | 26 |
| Jul 18 | 66 | $1,206/sf | 52 | 25 |
The $4,000,000+ Market:
| | | | | |
| --- | --- | --- | --- | --- |
| Date | NSDCC Active Listings | Avg. LP/sf | Avg. DOM | # of Pendings |
| Jan 3, 2022 | 100 | $1,884/sf | 128 | 30 |
| Jan 10 | 105 | $1,864/sf | 113 | 29 |
| Jan 17 | 109 | $1,763/sf | 110 | 34 |
| Jan 24 | 105 | $2,130/sf | 114 | 42 |
| Jan 31 | 102 | $2,114/sf | 118 | 53 |
| Feb 7 | 109 | $2,000/sf | 108 | 50 |
| Feb 14 | 108 | $2,005/sf | 109 | 47 |
| Feb 21 | 113 | $2,008/sf | 103 | 43 |
| Feb 28 | 111 | $1,991/sf | 101 | 47 |
| Mar 7 | 115 | $1,904/sf | 91 | 39 |
| Mar 14 | 121 | $1,893/sf | 95 | 43 |
| Mar 21 | 116 | $1,905/sf | 97 | 44 |
| Mar 28 | 104 | $1,966/sf | 97 | 59 |
| Apr 4 | 103 | $1,929/sf | 97 | 56 |
| Apr 11 | 106 | $1,906/sf | 97 | 55 |
| Apr 18 | 108 | $1,874/sf | 100 | 51 |
| Apr 25 | 116 | $1,829/sf | 97 | 38 |
| May 2 | 117 | $1,781/sf | 95 | 32 |
| May 9 | 116 | $1,831/sf | 96 | 36 |
| May 16 | 124 | $1,854/sf | 91 | 39 |
| May 23 | 125 | $1,855/sf | 92 | 36 |
| May 30 | 129 | $1,706/sf | 93 | 39 |
| Jun 6 | 131 | $1,740/sf | 89 | 33 |
| Jun 13 | 132 | $1,793/sf | 86 | 38 |
| Jun 20 | 148 | $1,772/sf | 84 | 35 |
| Jun 27 | 153 | $1,779/sf | 87 | 29 |
| Jul 4 | 155 | $1,777/sf | 82 | 25 |
| Jul 11 | 164 | $1,759/sf | 85 | 26 |
| Jul 18 | 170 | $1,740/sf | 86 | 26 |
NSDCC Weekly New Listings and New Pendings
| | | | | |
| --- | --- | --- | --- | --- |
| Week | New Listings | New Pendings | Total Actives | Total Pendings |
| Jan 3, 2022 | 17 | 14 | 152 | 164 |
| Jan 10 | 39 | 18 | 167 | 142 |
| Jan 17 | 34 | 29 | 179 | 145 |
| Jan 24 | 41 | 40 | 173 | 157 |
| Jan 31 | 43 | 40 | 173 | 182 |
| Feb 7 | 43 | 38 | 179 | 179 |
| Feb 14 | 44 | 49 | 168 | 193 |
| Feb 21 | 51 | 38 | 180 | 197 |
| Feb 28 | 39 | 39 | 179 | 205 |
| Mar 7 | 54 | 37 | 191 | 195 |
| Mar 14 | 48 | 51 | 195 | 196 |
| Mar 21 | 39 | 46 | 178 | 207 |
| Mar 28 | 53 | 50 | 185 | 224 |
| Apr 4 | 46 | 40 | 190 | 220 |
| Apr 11 | 61 | 39 | 221 | 213 |
| Apr 18 | 41 | 46 | 224 | 212 |
| Apr 25 | 50 | 43 | 224 | 205 |
| May 2 | 76 | 37 | 256 | 196 |
| May 9 | 59 | 46 | 262 | 207 |
| May 16 | 78 | 48 | 286 | 200 |
| May 23 | 61 | 42 | 312 | 192 |
| May 30 | 54 | 44 | 307 | 183 |
| Jun 6 | 70 | 31 | 338 | 183 |
| Jun 13 | 60 | 41 | 354 | 202 |
| Jun 20 | 71 | 25 | 388 | 177 |
| Jun 27 | 73 | 26 | 433 | 159 |
| Jul 4 | 55 | 39 | 432 | 158 |
| Jul 11 | 55 | 24 | 471 | 161 |
| Jul 18 | 49 | 35 | 459 | 168 |