These people have been insisting for years that prices will be going down because of higher rates, foreclosures, forbearances, recession – you name it!
Will fewer sales will cause higher or lower prices?
The authors below say that lower sales volume will result in the 'home price trend for the next couple of years will be down', which suggests that environment will get so bad that nobody will be willing to pay today's prices.  It means that only the motivated sellers who have to sell for less than today's prices will succeed in finding a buyer.
But I think that fewer sales will mean that only the superior properties will be selling.  They may not get the big pops over their list prices like we've seen lately, but the pricing trend should plateau within +/- 5% of where it is today.
There won't be enough sellers who will dump on price, and agents aren't going to insist on price reductions.  Both would rather not sell, instead of giving it away.  It would take at least another selling season (or two) before either would believe they need to drastically alter their price.
The scary part? Every seller has ample equity, and could take a haircut if needed.
Does anyone need to move bad enough to leave the comforts of a decades-long life in California, pay capital-gains taxes, AND dump on price? We're going to find out, but I'm guessing there won't be many. And they won't out-number the desperate out-of-town buyers who can't wait to move here!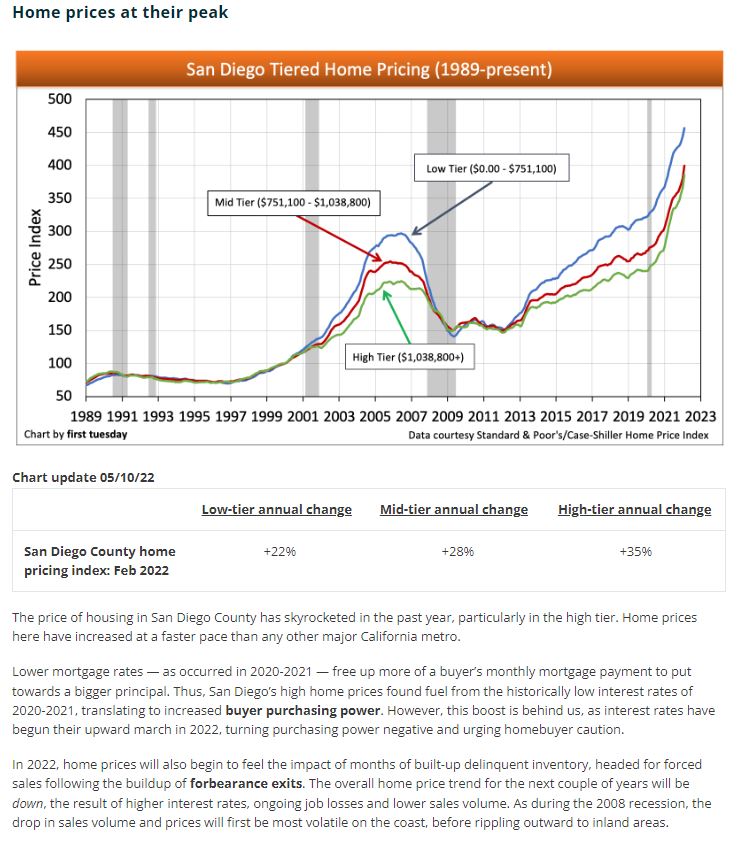 https://journal.firsttuesday.us/san-diego-housing-indicators-2/29246/