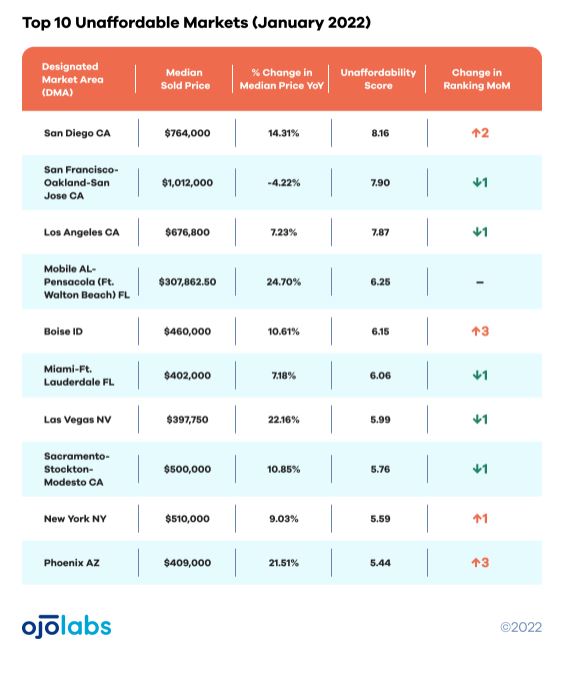 San Francisco is no longer the nation's least affordable metro area, being surpassed by San Diego, it's neighborhood to the south. The latest OJO Labs unaffordability report saw San Diego bypass both San Francisco and Los Angeles to become the nation's least affordable metro by comparing median home price to local incomes.
The median home sold price in San Diego climbed 14.3% in January to $764,000, bringing the city's unaffordability score — a ratio of home sold price to median household income — to 8.1.
And despite San Francisco still boasting the most expensive housing stock of any metro in the U.S., a 4.2% home sold price decrease in January on an annual basis actually drove San Francisco's unaffordability score below 8 for the first time since OJO Labs began tracking the data in July 2021. In January, San Francisco's unaffordability score fell to 7.9, down from 9.2 last month.
Los Angeles; Mobile, Alabama; Pensacola, Florida; and Boise, Idaho metro areas rounded out the top five least affordable metro areas in the U.S.
Unaffordability score is a ratio that's derived from monthly median housing prices and median household income. The higher the score, the more unaffordable a metro area is for a household making the median income. Median home price data is drawn from local multiple listing service sold data and median household income is derived from 2016-19 census data.
https://email.ojo.com/san-diego-passes-san-francisco-as-nations-least-affordable-metro