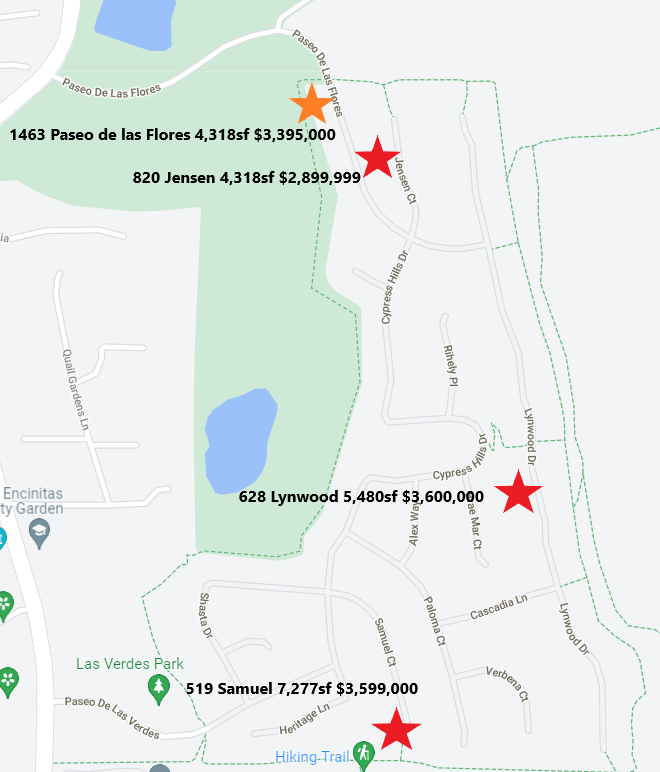 When my listing of 1463 Paseo de las Flores hit the open market on October 18th, there had been three other properties that were providing guidance on price.
The monster 7,277sf home at 519 Samuel had been in escrow for almost two months, and 628 Lynwood had been languishing unsold for 110 days. On September 27th, a model-match to my listing, 820 Jensen, came on the market at $2,899,999, which was devastatingly-low compared to our anticipated list price of $3,395,000.  I called the owner/agent to suggest that she may want to raise her price, and sent her the six comps that were outside Encinitas Ranch but all over $3,000,000.
Her response? "We're comfortable with our price".
I called her a couple of weeks later right before we went on the market to inquire about her sales price.
Her response? "You'll see it in the MLS when it closes". Great, thanks.
(The eventual buyer's agent told me that she received four offers – three at her list price, plus his cash offer at $3,060,000.  The sellers took his cash offer.)
I was undeterred, and we hit the market at our $3,395,000 on a Thursday afternoon.
The next day at noon was the first showing, done virtually by an assistant.
Any buyer who responds that quickly must be highly motivated, so I didn't hold it against them that the principal agent didn't come or that it was a virtual showing. It would be hypocritical for me to have an objection since I've sold multiple houses virtually.
They made a full-price cash offer by the time I got to open house at noon on Saturday.
Greg and I entertained a big crowd at the open house, and one of the first attendees was a woman who brought her mom and her best friend, which I took as a good sign. She mentioned that she knew the previous owners, and had been to dinner parties at the house!  They stayed for an hour, during which I told her that I had received a full-price cash offer.
Before the open house was finished, I received her cash offer for $3,500,000.
Every other agent would have taken her offer.
It was a whopping $105,000 higher than the first offer, she was charming, and she had spent serious time inside the house.  It would look like a no-brainer choice to every other agent.
But I'm not like every other agent.
I called the first agent as I was leaving the open house, and told him I had received the $3,500,000 cash offer.  I asked if he wanted to beat it, and if so, that I would go back to the second buyer and give her the same chance to beat his.  We would go back and forth until a buyer prevailed.
We went five rounds before the second buyer passed at paying $3,800,000, and – armed with this insider information – she ran over to Lynwood and bought that house instead for $3,550,000 and a 10-day escrow. It still shows as a pending listing today, but I know what happened because the listing agent is advertising his good fortune all over Facebook.
The sellers of 820 Jensen? They were the buyers of Samuel, and they paid full price, $3,599,000.
We are closing on Monday – more stories to come!