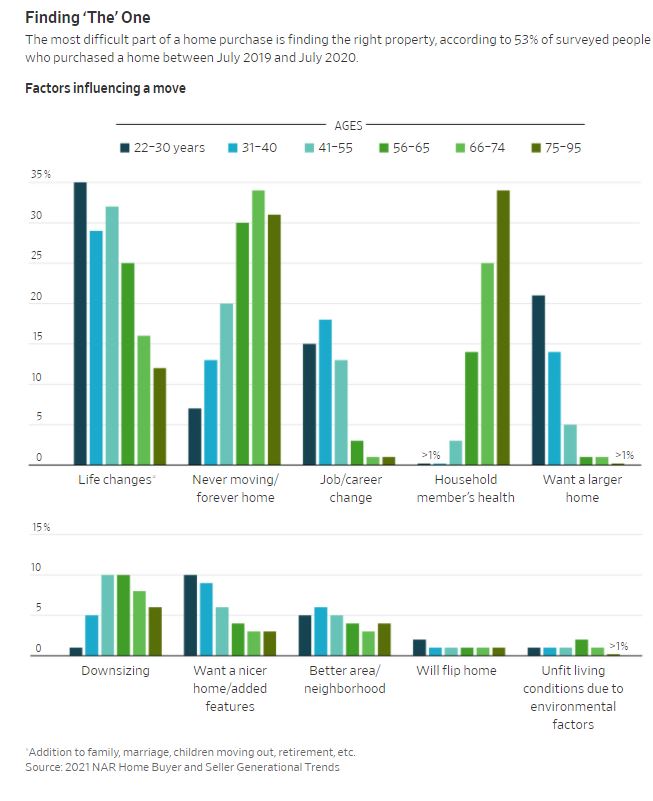 Do a thorough investigation on where you're moving!
To Rick Brown and Jeanne Brown, finding a forever home has seemingly taken forever.
In just five years, the couple—he's 71 and she's 72—bought or built two different houses that they planned to live in for the rest of their lives. But their tastes changed—so they decided to pick up stakes both times. Now they have settled on a third home that seems to be their final choice.
If there is one takeaway, Mr. Brown says, never use the words "forever home."
Like the Browns, many couples near or in retirement embark on a quest to find the perfect place to spend their twilight years. Soon, however, some people realize that what's perfect now may be less than ideal later. Poor health and dwindling finances are obvious reasons some seniors choose to move. Other retirees retool their priorities when they realize how much they miss the grandchildren or hate their new neighborhood.
In truth, most home buyers don't stay in their homes as long as they think they will, says Jessica Lautz, vice president of demographics and behavioral insights with the National Association of Realtors, a trade group. "People may not want to move," she says, "but they may decide to because life happens."
The Browns began their forever-home quest in 2011, when they sold a bed-and-breakfast in Annapolis, Md., that Mrs. Brown had operated since 1997. Cash flow had been good for a while, but in time, neighbors started listing their homes as vacation rentals, cutting into the B&B business. Then came the 2007-09 recession. When Mr. Brown retired from his full-time career in banking in 2010, the couple decided to close their business. They sold their B&B—purchased for $540,000 in 1996—for $925,000.
The Browns found their first forever home in Southport, N.C., near the Intracoastal Waterway. They paid about $200,000 for land and another $400,000 to build "the nicest place we have ever lived in," Mr. Brown says. Still, the nearest big city was Wilmington, N.C., over a half-hour away. "We loved the area and our home there, but it was isolated," Mr. Brown says. "We were accustomed to good restaurants and the theater, and the like."
While living in Southport, the Browns traveled west to Asheville, N.C., for a tennis tournament. Driving around, they realized Asheville offered the best of both worlds—the trappings of city life and the outdoor activities in the beautiful Blue Ridge Mountains. So, they sold their Southport home for $480,000 in 2016.
"Where we got clobbered was the purchase price of the lot," Mr. Brown says, which the couple had purchased right before the recession of 2007-09. "When we left, the value of the lot had fallen about 50%."
The couple spent about $470,000 to build their second forever home, situated on the side of a mountain about 15 minutes from downtown Asheville. To stay busy, both Browns took part-time jobs, volunteered and pursued their hobbies. "But despite being a nice area, we had a tough time breaking into the social arena," Mr. Brown says. "I didn't click with the different types of groups. I thought, 'Maybe this isn't the place for us.' "
That realization led to their third—and current—forever home. In 2019, the Browns sold their house in Asheville for about $570,000 and moved to the Villages, a sprawling 55-and-older community in central Florida. There, they bought a modest three-bedroom home for $408,000. Mr. Brown plays golf, softball and pickleball; Mrs. Brown golfs, belongs to a book club and teaches pottery classes. Together they foster puppies.
Mr. Brown says he and his wife have no regrets—their experiences in Maryland and North Carolina helped them realize why Florida is such a good fit. To them, an enjoyable retirement is more about the lifestyle and less about the house. "Right now, we're saying we're going to stay put."
Read more stories plus 400 comments too:
Link to WSJ Article