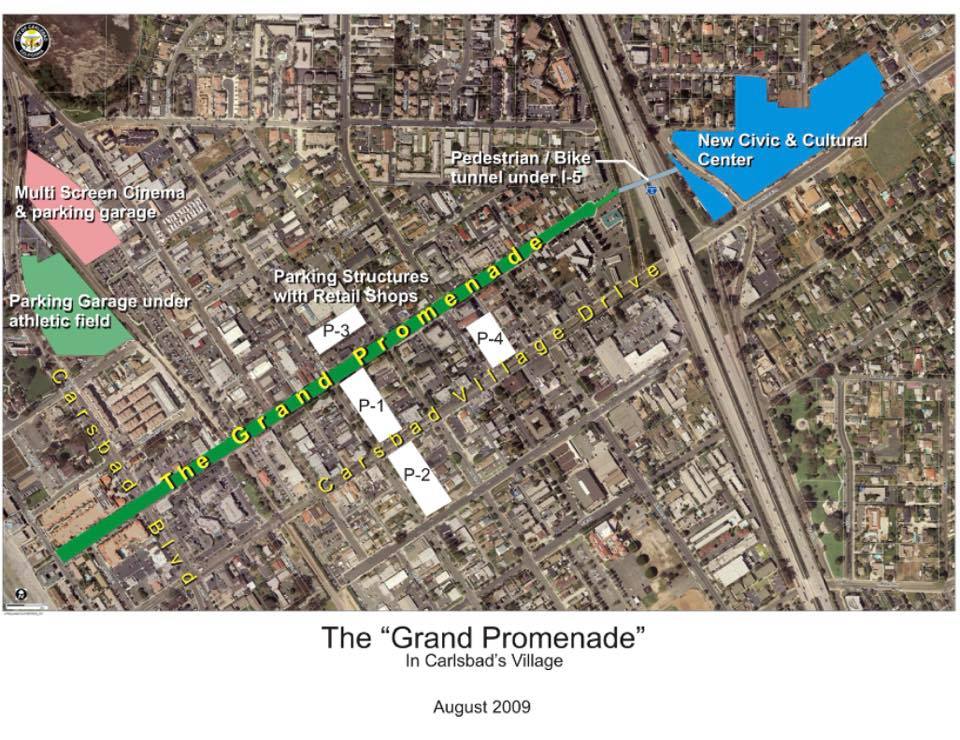 The tunnel under the freeway seems extravagant when people can use the existing Carlsbad Village Drive access. The rest of the project seems simple and relatively inexpensive if the tunnel is left out.  Let's note that the map above is from 2009 – none of parking structures have happened yet.
The Imagine Carlsbad team will host a monthly Carlsbad Village walkabout and Q & A on Monday, April 19th at 6PM. The first walkabout will focus on the topic of the Grand Promenade and Grand Street Tunnel. Come meet Gary Nessim and Bob Wilkinson on the corner of State and Grand to review the vision and plans for a Village gathering space called the Grand Promenade and the proposed Grand Ave tunnel under the 5 freeway to Pio Pico.
The Grand Promenade was originally presented to the City Council Members in 2009 and has been incorporated into the Village and Barrio Master Plan. There will be a short walk along Grand and a Question-and-Answer opportunity following the walk. The team at Imagine Carlsbad plans to host a monthly walk to address pertinent issues including: Northwest quadrant Civic Center options, Parking, Architectural Style. Looking forward to seeing all interested citizens.