Two offers that I made on behalf of buyers fell on deaf ears this weekend.
The first listing agent pulled the usual stunt – the blackout, where he doesn't answer the phone or communicate in any way until the deal is done.  Once he got the winning offer signed, he started answering his phone again (instead of communicating with the losers that he "went in a different direction").   We had offered full price on a two-day old listing, and lost without any chance to compete. When I got him on the phone, I asked, "You must have sold it for at least $50,000 over list?", to which he said, "No, $15,000 over". Some agents prefer to grab the first decent offer, rather than create a bidding war – so get there early!
A listing agent on another new listing told me that he had four offers in hand, and expected a couple of others – and he couldn't say if he was going to counter-offer. So we made a new offer that was $80,000 over list price, to which he responded, "Just finalized the transaction", and then emailed me a couple of hours later to let me know that the seller has rejected my offer. Rubbing the losers' nose in it is another common trait among the inexperienced listing agents too.
This listing agent reported that she had over 50 phone calls between Friday night and Saturday afternoon, so they raised the price by $200,000: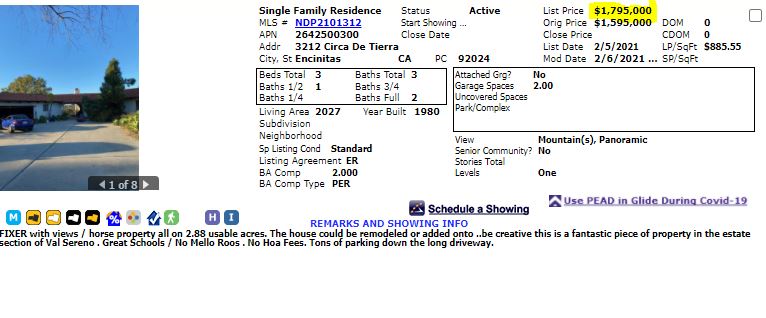 The second-wildest bidding war of 2021 (so far) resulted in the winner paying $2,100,000 cash for this house on January 13th (listed for $1,850,000, and ten offers submitted).  With the frenzy conditions, buyers may try to make a quick buck – don't be surprised if we see more of this:

We're not even in the selling season yet – it starts tomorrow!
~~~~~~~~~~~~~~~~~~~~~~~~~~~~~~~~~~~~~~