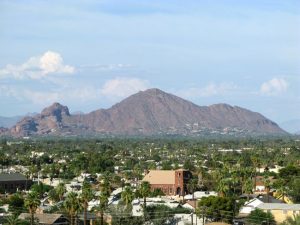 Of the places benefiting from the people fleeing California, Phoenix has to be #1 on the list. Their Case-Shiller Index had the biggest increase in the nation this week (+9.9%), and look at the average market time:
PHOENIX — The greater Phoenix housing market has already returned to pre-pandemic levels and could be on track for a record October in total homes sold, according to Valley housing analyst Tina Tamboer with The Cromford Report.
"The pandemic may as well have been a decade ago now," she told ABC15.
"We soared in contract activity between May and June and [that activity] stayed relatively high," Tamboer said, adding that the increase coincided with the state beginning to ease COVID-19 restrictions on businesses.
In April, Tamboer said the median time for a Valley home to move under contract was 21 days. Today, that time frame is less than eight days. October is also on track to see 30% more Valley homes sold than a "normal" year. She said typical factors that could delay a home purchase — like vacation plans and children returning to school — have been impacted.
Even as home prices rise, the CARES Act could allow potential homebuyers to access their savings early — from a 401k account, for example — without penalty. Mortgage rates have also set record lows, which could offset any increase in total home price when calculating a monthly payment.
While we're at it, let's also mention the CARES Act benefits, which may not help many homebuyers in San Diego but could keep homeowners afloat who have lost jobs:
In response to our massive economic downturn and sudden unemployment affecting 30 million-plus Americans, Congress passed new legislation in March to make it easier to access your retirement savings.
To that point, an individual can now take a withdrawal of up to $100,000 from eligible retirement plans, including 401(k) plans and IRAs, without the 10% penalty applying.
Additionally, the IRS recently released guidance broadening the number of people who can take coronavirus-related distributions from 401(k) plans and IRAs. For example, if your spouse has lost his or her job due to coronavirus or had a job offer rescinded due to the pandemic, you can take up to $100,000 from your own retirement account.
These coronavirus-related distributions are only available in 2020, so it's a consideration that would need to be taken over the next six months as the legislation stands today. Note that while the 10% penalty has been temporarily waived, the tax liability on the distribution has not. The good news is you will have up to three years to pay the tax liability on the amount of your distribution, which is designed to ease what might look to be a major tax hit.
Link to Article