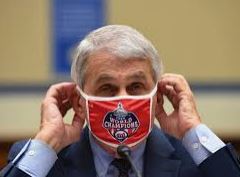 Did you hear Dr. Fauci last night?
It's likely US health officials will know whether a Covid-19 vaccine is safe and effective as early as next month, Fauci said Monday. "I think comfortably around November or December, we'll know whether or not the vaccine is safe and effective," he said.
There are currently 10 Covid-19 vaccine candidates in late-stage, large clinical trials around the world, according to the World Health Organization. Several of those are in the US and at least two have been in Phase 3 trials since late July.
Once a vaccine is deemed safe and effective, it's likely companies will already have doses to begin distributing, Fauci said.
"There will be vaccines available, likely, for some people, limited amount, by the end of this calendar year, the beginning of 2021," Fauci predicted.  Experts including Fauci say health care workers and people with underlying health conditions will likely take priority for vaccinations.
https://www.cnn.com/2020/10/06/health/us-coronavirus-tuesday/index.html
It didn't make this article, but he also said that vaccines are already being manufactured, and they should be available for the masses by the middle of next year.
Just the thought of the pandemic coming to an end should be enough to goose the Spring Selling Season!