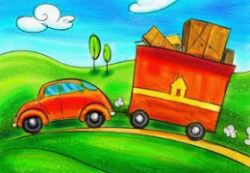 The pandemic is being blamed for people leaving town.
I think it's more that Covid-19 is the last straw that is causing people to take the action they would have taken at some point anyway.  The 'rona will be gone in 1-18 months – moving is a major life-changing event.
But these two conflicting articles probably demonstrate who is being impacted.
On one hand, we have people – probably those who want/need to be economical – who are moving themselves and are being ripped off by the rental-truck agencies (hat tip SM):
https://jalopnik.com/moving-truck-prices-in-la-and-san-francisco-are-skyrock-1845068350
But a survey of full-service moving companies describe a different scenario:
Are people in the U.S. migrating during the coronavirus crisis in different ways than pre-pandemic? Are they leaving cities? Moving to the suburbs? These are popular questions without definitive answers — yet. But there is some data emerging that can paint a better picture of Americans' geographic response to the pandemic.
One thing's for certain: So far, there is little support for the dramatic claims that people are fleeing cities writ large. In fact, available data indicates that overall, fewer people moved at all since the beginning of stay-at-home orders and through June — even with interest in moving on the rise again.
Among those who have moved, it's unclear how many of those moves will be only temporary. But that doesn't mean there aren't interesting migration takeaways worth following. A select few cities including New York City and San Francisco do seem to be seeing more out-migration than most. But guess where many of those people are going? Other very large metropolitan areas, like Seattle and Los Angeles.
If there is a perception that the pandemic has ushered in a mass migration, it is not supported by the data. According to figures from two national moving companies, Americans moved less during the pandemic than they normally would have, not more. 
Several surveys have found that the great majority of people who did move during the first months of the pandemic did so for reasons unrelated to the coronavirus. In one such survey of 1,300 individuals conducted by Hire A Helper, just 15% said they had relocated because of Covid-19. Out of these pandemic-induced migrations, 37% of respondents said they moved because they could not afford current housing due to a Covid-related income loss. Thirty-three percent of the respondents said that they moved to shelter in place with friends or family, and 24% that they didn't feel safe where they were.
A Pew Research Center survey in June looked more closely at Americans who said they did make pandemic-induced moves. It found that overall, young people between the ages of 18 and 29 were moving because of Covid-19 in higher numbers, whether permanently or temporarily (college closing for in-person education might be to blame, at least partially.) Only 3% of the respondents said they had moved because of Covid-19, and 6% said someone else had moved in with them because of it.
What the pandemic is exposing is the gap between the haves and have-nots.
Those who are moving are seeking financial relief – either homeowners cashing in their home-equity lottery ticket and moving down, or those who flee so they can afford to start their American dream in a cheaper area.
The affluent don't have to worry about that stuff. But they'll move closer to the grandkids!