A two-year-old, Culver City, California-based startup called United Dwelling aims to tackle the affordable housing problem using data, creativity, and underutilized garages and backyards.
United Dwelling plans to eventually build thousands of Accessory Dwelling Units, which are basically 369-square-foot studio homes. The company said its units benefit homeowners who are looking for ways to supplement their income as well as tenants looking for low-cost housing options.
United Dwelling uses data to identify potential lots that would be suitable for its units. It targets mostly low-and middle-income neighborhoods, with some exceptions for workforce housing. The company at first was going to just remodel garages but discovered quickly it's much easier to tear down old ones and start fresh. So that's what it does. It replaces those garages with small, affordable and zero net carbon homes in low-density neighborhoods with no out-of-pocket costs to property owners.
It then sets a rental price for the newly built unit and manages the property on the homeowner's behalf, keeping a share of the rental income. Upon completion of construction, United Dwelling gives the homeowner the option to buy the unit back from the company for just under $88,000. To keep the costs of construction down, United Dwelling aims to build at least five units within a two-mile radius in the same time frame. Its initial focus is on the Los Angeles region with plans to eventually expand to the Bay Area and other locations once its solidifies its process, according to Dietz.
Specifically, the company plans to build over 150 of its detached studio homes in Southern California in 2020 and over 1,500 in 2021 (assuming construction can continue moving forward as an essential function per Los Angeles COVID-19 policy).
"Affordable housing is one of the most daunting challenges facing California and other parts of the county that is both entirely man-made and completely solvable," Dietz said. "Here, we can do something that's incredibly relevant. The opportunity is truly immense. Affordable housing is pretty easy. All you need is inexpensive land and construction, and capital."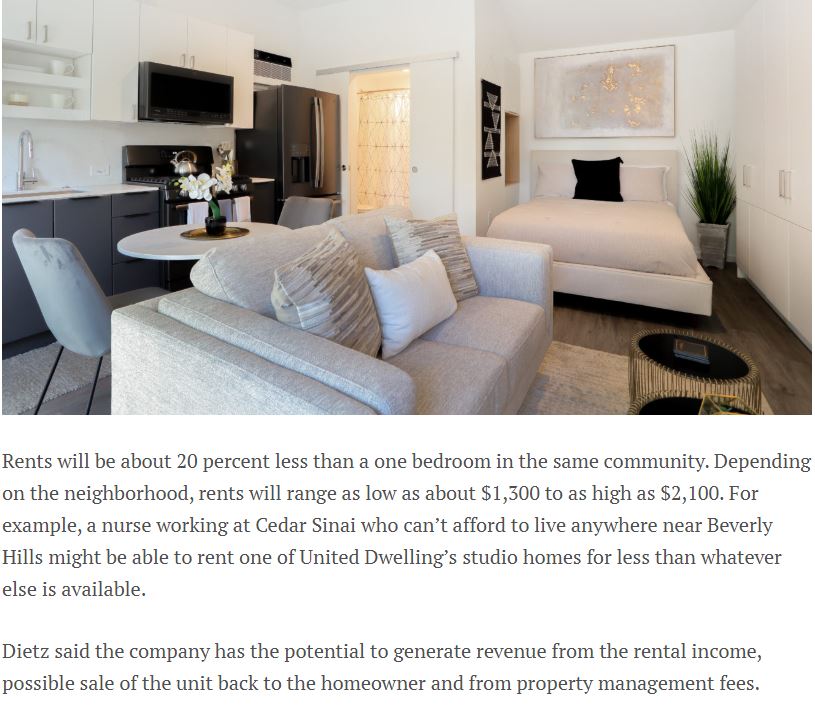 Link to Article