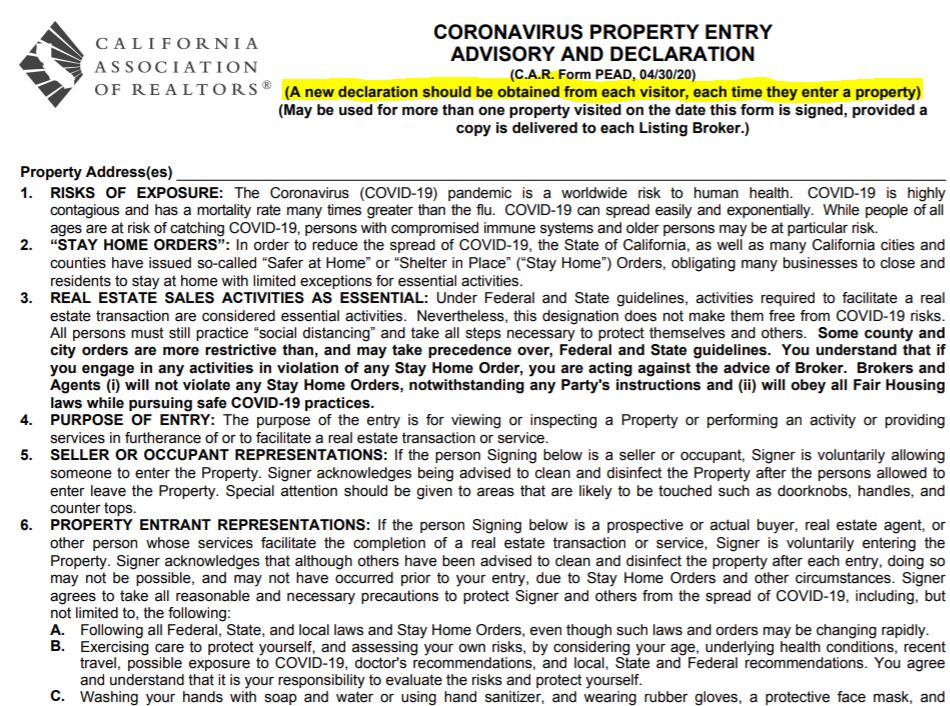 We should take precautions during the coronavirus era, so let's inform the buyers and sellers what to expect before showing a house. Here we go:
As you may know, the industry recently received guidance from the California Department of Health and Cal/OSHA (the "Guidance") regarding the handling of real estate transactions, especially the showing of properties for sale. Pursuant to that guidance, we have created a Compass "Shown Property COVID-19 Prevention Plan," (the "Plan") attached below, which is to be used as follows:
1. The Plan is to be posted at the door of every property we show or enter, for each showing or entrance.
2. The Plan is to be forwarded to every person entering the property, including prospective buyers or inspectors, by email prior to the entrance. It should be emailed with the PEAD and the person entering should be required to both sign the PEAD and acknowledge the Plan, promising to comply with its requirements while at the property. Your cover email should state that entry to the property constitutes an agreement to comply with the Plan.
3. The Plan, or a link to the Plan, must be included in all online public and MLS listings of the Property.
Furthermore, the Guidance outlines certain other practices that should be followed at all showings and inspections.
1. Commonly used surfaces, like door and cabinet handles, counter tops, toilet and toilet handles, sinks / faucets, and light switches should be wiped down, preferably by the seller, before and after every visit.
2. Open doors, windows, and ventilation systems prior to each showing to introduce outside air to the property.
3. Open all interior doors and turn on all lights before showings so as to minimize the need for touching.
4. Wipe down any item you get from the seller, such as keys, after each use.
5. Schedule appointments with sufficient time in between to conduct the necessary cleaning.
6. If you provide sanitary wipes, face coverings, gloves, etc., place them at the property's entrance so they can be used or put on prior to entry.
7. Require each person entering the property to wash their hands with soap and water at the sink closest to the property's entry prior to touring or inspecting the property.
8. No flyers or paper are to be handed out or left at the property for circulation to prospective buyers.
I hope we don't get so engrossed with adhering to the rules that we forget about selling the home!