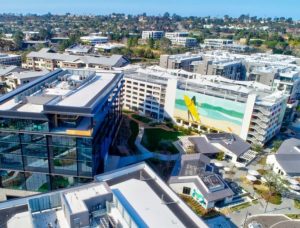 The 1-br apartments start around $2,900/mo.
The office portion of One Paseo is the last to be completed and met its target to turn over the interior spaces to tenants this spring for build-outs. The two office buildings are over 80% leased and depending on the stay-at-home order, occupancy could begin this summer through the first quarter of 2021.
Of the over 600 residential units at One Paseo, a section had yet to be completed when the pandemic hit. Construction on the last phase of 145 units, which includes townhomes along the frontage of Del Mar Heights Road, looks to be completed this summer.
Little said they have over 210 signed leases of the 450 units that are available and Kilroy has increased its offering of virtual tours for potential tenants.
Link to Full Article