Hat tip to Hank for sending in this research – they have California peaking next week: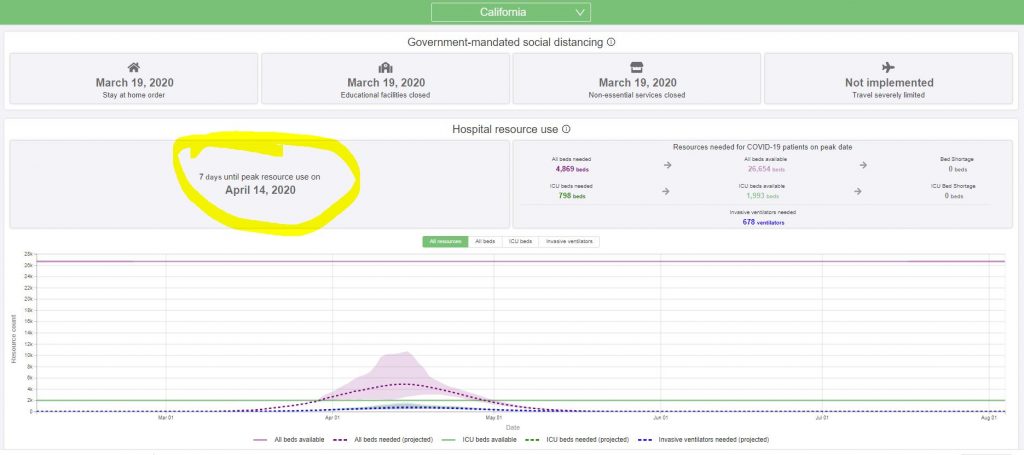 The Institute for Health Metrics and Evaluation (IHME) is an independent population health research center at UW Medicine, part of the University of Washington, that provides rigorous and comparable measurement of the world's most important health problems and evaluates the strategies used to address them. IHME makes this information freely available so that policymakers have the evidence they need to make informed decisions about how to allocate resources to best improve population health.
The announcement of the 10-year, $279-million investment in IHME by the Bill & Melinda Gates Foundation this year provides a moment in time to reflect and to look ahead. The Institute has grown from a core of three initial members in 2007 to a staff of more than 300; developed a powerful and constantly innovating research infrastructure; built a global network exceeding 2,000 collaborators; and perhaps most importantly, strengthened the field of health metrics science.
Throughout it all, IHME's overarching objective, our true north, has been to create the most complete and up-to-date roadmap to help policymakers and donors determine how best to help people live longer, healthier lives.
Most states and the federal government are using their data for planning purposes:
https://covid19.healthdata.org/united-states-of-america/california