Last December, I had guessed NSDCC sales would drop by 20% this year, but that was back when mortgage rates were touching 5%.  With rates back in the 3s for most of 2019, our sales exceeded my expectations – here are the NSDCC detached-home listings and sales for the first 11 months:
NSDCC Detached-Home Sales, Jan-Nov
| | | | |
| --- | --- | --- | --- |
| Year | Total # of Listings, Jan – Nov | # of Sales, Jan – Nov | Median Sales Price |
| 2016 | 4,984 | 2,868 | $1,165,000 |
| 2017 | 4,500 | 2,873 | $1,225,000 |
| 2018 | 4,689 | 2,615 | $1,325,000 |
| 2019 | 4,573 | 2,587 | $1,325,000 |
We're only 28 sales behind last year, and the late-reporters should pull us up real close to 2018.
This year's sales AND pricing statistics are virtually identical to last year!
~~~~~~~~~~~~~~~~~~~~~~~~~~~~~~~~~~~~~~~~~~~~~~~~~~~~~~~~~~~~~
There should be more forecasts coming in the next week, but let's consider what we have so far.
This in today from realtor.com – they have sales dropping in 2020, and prices flat:
Home sales will drop, the housing shortage could become the worst in U.S. history, and home values will shrink in some cities. That's the 2020 forecast from realtor.com, which holds one of the largest databases of housing statistics available.
Sales of existing homes will fall 1.8% from 2019, according to the forecast. Home prices will flatten nationally, increasing just 0.8% annually, but prices will fall in a quarter of the 100 largest metropolitan markets, including Chicago, Dallas, Las Vegas, Miami, St. Louis, Detroit and San Francisco.
It is a seemingly contrary assessment, given the current strength of the economy and of homebuyer demand, but the dynamics of this housing market are unlike any other — the result of a housing crash unlike any other.
"Real estate fundamentals remain entangled in a lattice of continuing demand, tight supply and disciplined financial underwriting," said George Ratiu, senior economist at realtor.com. "Accordingly, 2020 will prove to be the most challenging year for buyers, not because of what they can afford but rather what they can't find."
They also predict that the San Diego-Carlsbad metro sales will drop by 3.2%, and prices rise +0.2%.
Link to Realtor.com Forecast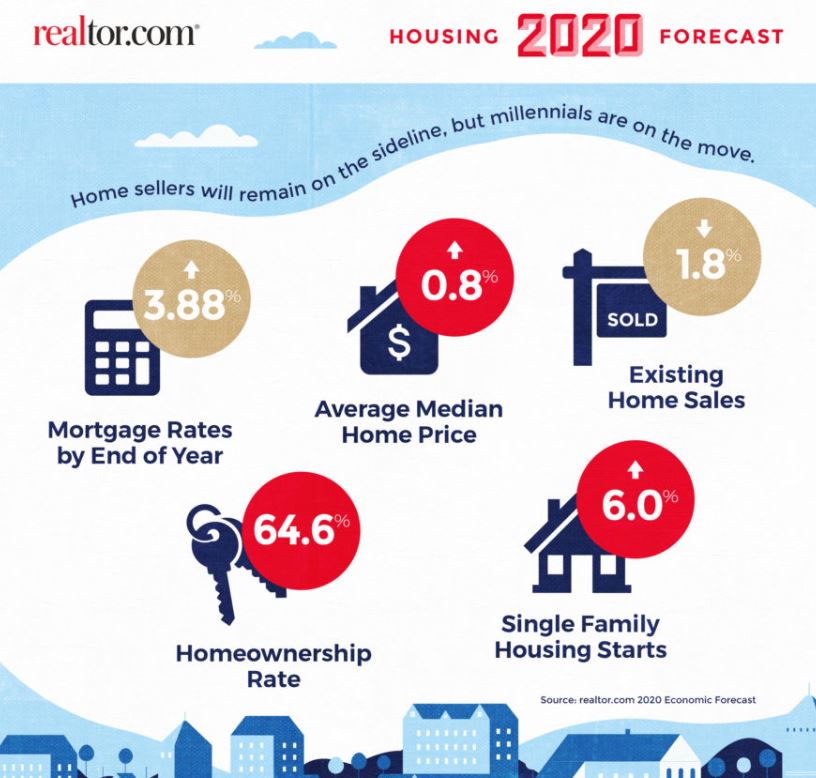 Here are other similar forecasts:
California Association of Realtors
NSDCAR (our local realtor assoc.)
Forbes
From the enthusiastic Forbes article:
"Low interest rates and a shortage of starter homes will continue to push up prices," DeFranco said. "This is especially the case for lower price points, since builders have tended to focus on more expensive, higher-profit houses and less on replenishing low inventories of entry-level homes."
It seems the price growth may continue beyond 2020, too. Data from Arch MI shows the chance of home price declines at a mere 11% for the next two years. There are currently no states or metro markets projected to see prices declines in that period.