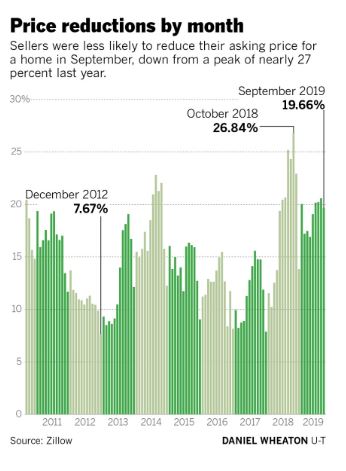 Another indicator that the local market is holding up and sellers aren't desperate – an excerpt:
Nahjla Wehbe Dipp, a Pacific Sotheby's International Realty agent, said buyers seem more receptive to not overpricing their homes than a year ago. She said another reason sellers might not want to reduce their asking price could be declining numbers of homes for sale.
Home inventory increased as sales started to slow last year around August, but any extra houses on the market seem to have already sold. There were 6,491 homes for sale in September, said the Greater San Diego Association of Realtors, down from 7,824 at the same time last year.
"There's just less for buyers to pick from," Dipp said.
The number of price reductions in a given month can correlate with a hot market. For instance, in San Diego County just 12.1 percent of listed homes had a reduction in 2016, and an average of 11.6 percent in 2017.
Even when a market is red hot, there are reductions. A selling tactic, not usually recommended by most real estate agents, is to price a home higher and then come down so the buyer feels like they are getting a deal.
San Diego still had the most reductions of any of California's large home markets. Riverside metro area had 16.5 percent of homes with a price reduction in September, followed by 16 percent in Los Angeles and 15.3 percent in San Francisco.
The median home price in San Diego County in September was $570,000, said CoreLogic data provided by DQNews, down from $575,000 at the same time last year.
Link to UT article