The Battle of Segovia is over.
Two of the same models were for sale across the street from each other in La Costa.
I had listed the green house on May 30th for $859,000, but because the seller claimed to be intensely private, he didn't want it on the MLS, no signs, and no open houses.
I was curious to see if it is possible to sell an older house for a premium price just off internet ads – but we didn't have one showing, so we agreed to part ways after five weeks.
Before we did, I suggested that we lower the price to $829,000.
The seller said, "I can sell it myself for that – I don't need you".
~~~~~~~~~~~~~~~~~~~~~~~~~~~~~~~~~~~~~~~~~~~~~~~~~~~~
At the end of July, I listed the house across the street at 3022 Segovia Way for $888,000.  It was featured here a few times – it was the original-looking house with the 13,000sf lot that backed to the school/park: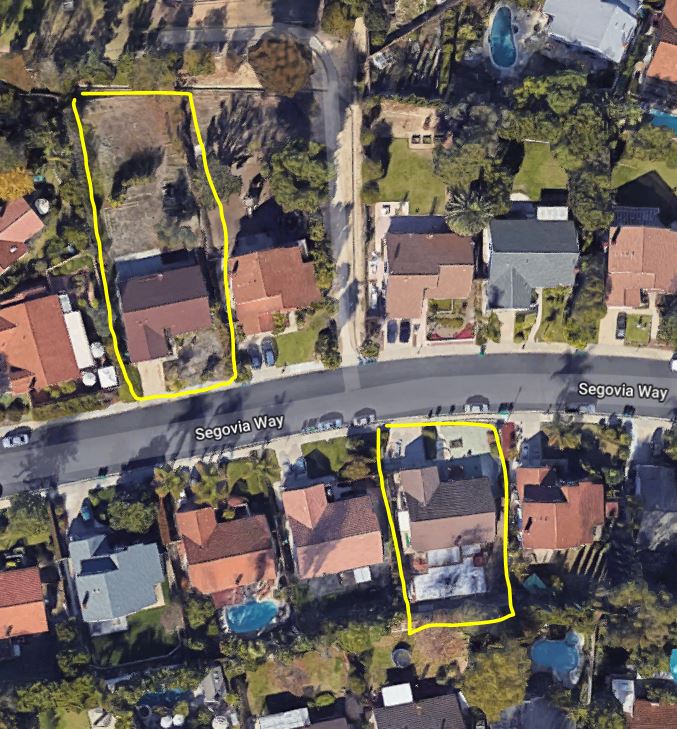 Twelve days later an agent from the auction company puts the green house on the MLS, priced on the range $839,000-$859,000.
When I was dealing with that seller, he was unwavering about price, so no surprise to see them adopt a similar pricing strategy – especially with me across the street at $888,000.
But it caused a standoff.
Buyers liked my big yard but were cautious about backing to a school yard and the amount of work needed to bring the home into this century.  The competitor across the street was cheaper and move-in ready….if you liked his DIY improvements.
The inevitable price war began:
August 12th: She listed on the range $839,000-$859,000.
August 19th: We lowered to $859,000.
August 23rd: She changed to $830,000 (no range).
August 27th: We lowered to $839,000.
We were doing open houses at the same time and were friendly competitors who compared notes. The action was good, and I thought we were probably close to selling both.
But her listing was running out at the end of August.
So when she re-listed with the seller, they decided to adopt the auction format instead.  She re-inputted the home as a new listing, priced at $699,000!
Their format provides some uncertainty because the seller has an undisclosed minimum price and they can sell the house before the auction.  Up until now, everyone knew that the seller had been expecting $800,000+, so buyers figured that they weren't going to be able to buy it for the $699,000 or close – and they'd have to wait a month until the auction before finding for sure.
We didn't change our price or strategy, and two weeks later – after buyers had a chance to re-calibrate – we had three offers and sold for $835,000.
The house across the street sold for $750,000.
For best results, list your home with Jim the Realtor!