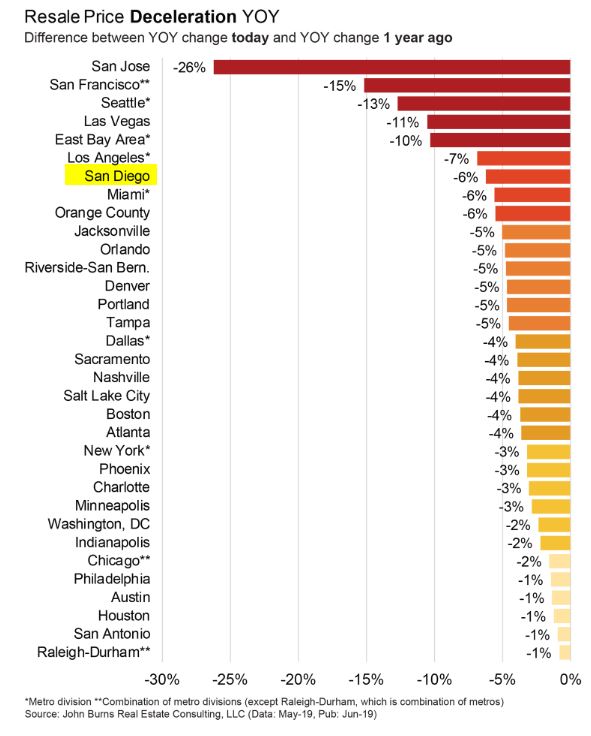 Double-digit increases can't last forever – but could home prices plateau for years? It will probably depend on mortgage rates, and having enough reasonable sellers who are willing to take the same $ as what the last guy got.
From our friends at JBREC:
Price appreciation has slowed across every major housing market, in what we are coining the Great Price Deceleration.
The biggest deceleration occurred in San Jose: Last year, resale prices in San Jose were up 20% YOY! Today, prices are down 6% YOY—a deceleration of 26%. Last year, San Jose was frenzied with less than one month of supply and very strong job growth. Builders were selling homes faster than they could build them. In the second half of 2018, the San Jose market slowed substantially due to affordability issues, but conditions have stabilized this year.
Top California markets, Seattle, and Las Vegas have experienced the most price deceleration. Home buyer affordability remains weak, even with historically low 4% mortgage rates, and homes are sitting on the market longer (especially higher-priced homes). We are seeing more buyer demand in markets such as Seattle, where home builders have adjusted prices.
Markets in the Southeast, Midwest, and Northeast have been far less frenzied this cycle and have had much steadier prices. These markets are typically lower risk in their fundamentals (more affordable, less risk of oversupply, and steady job growth). Raleigh-Durham has experienced the least deceleration in price from last year. Resale prices gained 7% YOY last year, and today they are up 6%, a 1% price deceleration.
Nationally, we expect resale prices to gain 2% through 2022, cumulatively, but there are huge disparities by region and metro.
We explore all top housing markets each month in our Regional Analysis and Forecast report for our paying research clients. If you are interested in becoming a research client, please reach out to our team of expert analysts.