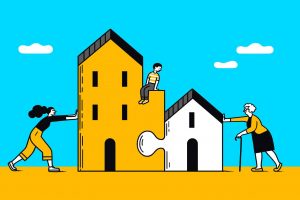 Twenty percent of Americans is a good-sized group, and with the cost and difficulty of senior care being so high, it is natural for more people to consider multi-generational living. Home sellers who can present their home as multi-gen friendly could really benefit.
PNC is one of several banks and lenders paying more attention to "the sandwich generation," people with dependent children and with elderly parents for whom they need to care. While not everyone in the sandwich generation has parents living with them, it is a growing phenomenon: Today, 20% of Americans live in multigenerational homes, where at least two adult generations live under one roof, accounting for 64 million people. In 1980, only 12% of Americans lived this way, according to the Pew Research Center.
"This has been on our radar for the last couple of years," said Todd Johnson, Wells Fargo Home Lending's Division Sales Manager, Pricing and Products Lead. In January, Wells Fargo lowered the down payment requirement for duplex buyers to 5% from 15% to 20%. This program is only available for loans that conform to Fannie Mae and Freddie Mac guidelines, but Mr. Johnson noted that loan limits for duplexes in costly areas can be relatively high.
For example, in San Diego a conforming duplex loan can reach $883,300, and in San Francisco, $930,300, Mr. Johnson said. Such loans can have as many as four borrowers, so a couple plus a set of elderly parents can all take out the loan together, Mr. Johnson said.
The program, however, comes with homework: It requires borrowers to take a four- to six-hour online course about being a landlord. What if your own mom and dad are going to be your tenants? You've still got to take the class, Mr. Johnson said. It covers issues such as getting insurance and landlord deductions and depreciation.
A common approach is for the older couple to sell their own home and use the equity to help make the down payment on the multigenerational home.
If a loan doesn't allow gift funds to be used as a down payment, Ms. Graziano said, "the older couple may need to become a co-borrower on the mortgage loan as well as an owner named on the title to the property."
When those older parent co-owners pass away, it can get complicated, especially if the parents have other heirs, says Ms. Graziano. "It may require refinancing the property to cash out the [parents'] equity, or selling the property." For loans that PNC Bank treated as a single-family home at origination, the borrowers can rent out their extra unit to someone else without penalty if renting parents die or move, Mr. Boomer said.
Link to WSJ Article