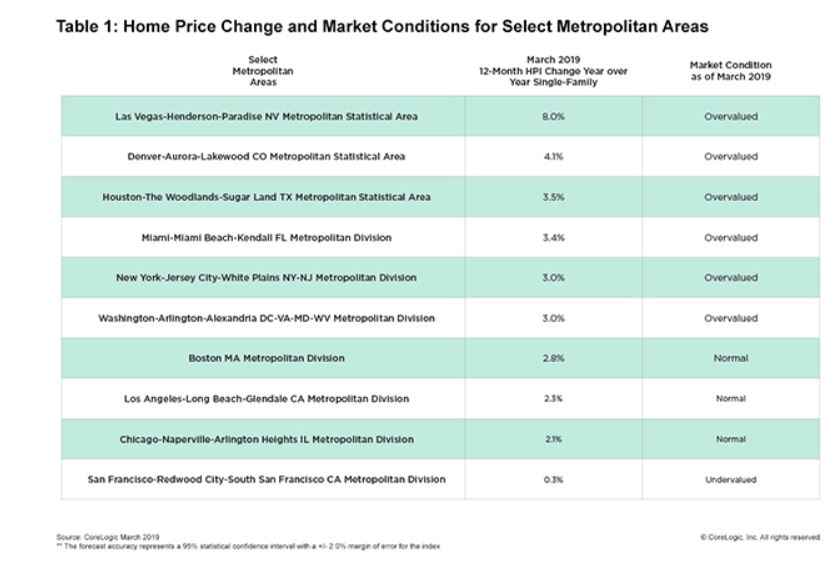 More data released today on pricing trends, and though San Diego didn't make this chart, we're probably in the normal range with Los Angeles because our Case-Shiller indicies have been similar (+1.8% vs +1.1% YoY in SD).  Interesting that they call San Francisco 'undervalued'.
Both the HPI and the Case-Shiller Index were the February readings.  There is optimism that YoY pricing will pick up as the selling season rolls on, but they are predicting that prices will decline from March to April, which is unusual:
Looking ahead, after some initial moderation in early 2019, the CoreLogic HPI Forecast indicates home prices will begin to pick up and increase by 4.8% on a year-over-year basis from March 2019 to March 2020. On a month-over-month basis, home prices are expected to decrease by 0.3% from March 2019 to April 2019. The CoreLogic HPI Forecast is a projection of home prices calculated using the CoreLogic HPI and other economic variables. Values are derived from state-level forecasts by weighting indices according to the number of owner-occupied households for each state.
These guys don't make their data public. Using the Case-Shiller Index instead, we see that the last time we had a drop between March and April was in 2009, at the bottom:

Zillow is predicting virtually-flat MoM results too.
Flat pricing during the prime selling season, and after we had six months of declines at the end of 2018?  Could this be where we top out, exactly ten years later?
If you're thinking of selling, contact me today!
Link to Press Release