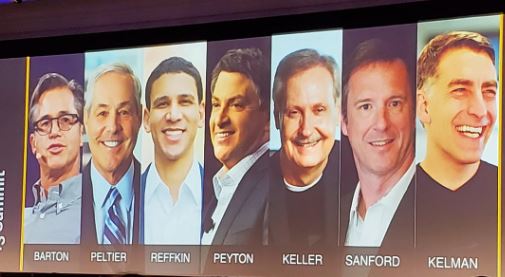 Well I was probably wrong on Sunday about the Robert Reffkin appearance meaning something else. I didn't realize that there was a big conference scheduled for today at the Loews Coronado Bay Resort.
It wasn't a realtor conference; instead it was the industry titans getting together.
Some of the highlights posted on twitter:
Robert Reffkin, CEO of Compass:
"You need to be a platform or you're going to compete against one."
"Agents need brokers less and less."
"Number one thing agents want is their brand to be central to their marketing."
"Agents want simplicity & harmony; NOT hassle of disparate systems."
"I don't think you should be loyal to your manager. You should be loyal to your family, your passion…Agents loyalty to you will come from your ability to grow their business"
Rich Barton, CEO of Zillow:
"When you make transactions quicker and easier – people do them more."
"I'm being disrupted by the VC funded, starry eyed innovators in the industry. We have to get from supplying the information to supplying the transaction."
"We are moving from online real estate 1.0 to online real estate 2.0"
"My return is also about bringing a start up mentality to the company"
Gary Keller, Keller Williams:
"The future of real estate is going to be built on big data and AI"
"The most important trend happening in real estate right now is TECHNOLOGY"
"Agents have spent close to a billion dollars in technology outside KW."
"The industry was hijacked"
"If agents want to get paid, they have to use KW tech stack."
"It's the revisiting of the idea of if I cant sell your home I'll buy it." (ibuyer)
"No competitive advantage to cobbled together systems."
"Agent websites are going away. Broker website are going away"
James Dwiggins:
"Buyers and sellers don't want to see a billboard for an agent in the yard"
And then you have Glenn Kelman from Redfin:
https://twitter.com/LauraMonroe/status/1125847624605552641
~~~~~~~~~~~~~~~~~~~~~~~~~~~~~~~~~~~~~
How much of the market will ibuyers be able to take?
"Less than a quarter", Rich Barton
"5% – 15%", Gary Keller
"It's going to cause massive confusion" – Gary Keller