We saw yesterday that fewer NSDCC homes have been coming to market this year, in spite of record pricing.  Boomers are reluctant to move for several reasons; aging-in-place, higher mortgage rates, and kids aren't moving out because of affordability: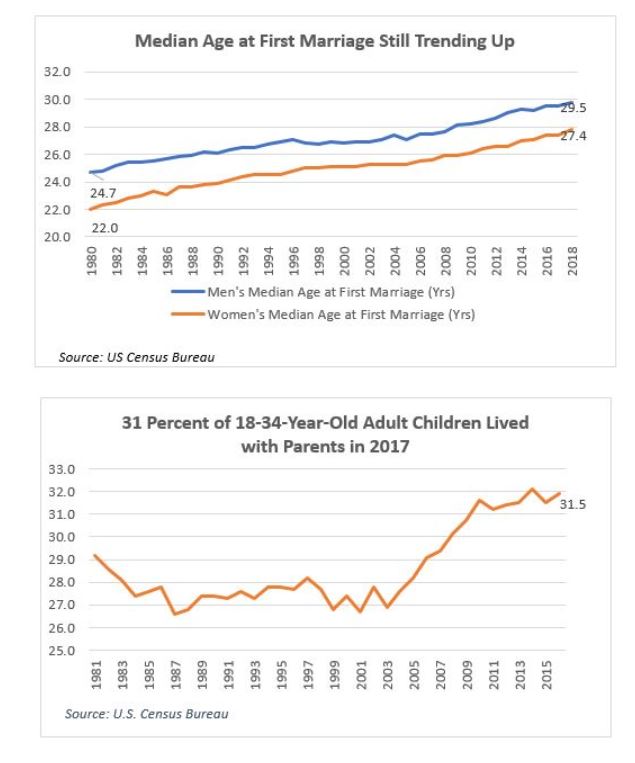 First, the number of movers has generally been on the downtrend since during 1985-1986.  During 1985-1986, there were 46.470 million people who moved, or 20.2 percent of the population, and by 2017-2018, there were only 32.352 million movers, or 10.1 percent of the population.  Comparing 2017-2018 with 2016-2017 data, there were 2.55 million fewer movers during 2017-2018 (32.352 million) than during 2016-2017(34.902 million), with the fraction of movers declining from 11 percent in 2016-2017 to 10 percent in 2016-2017.
The decline in mobility rates is also reflected in the lower turnover rate, or the ratio of existing homes sold to owner occupied housing stock.  In 2005, there were nearly 10 houses sold for every 100 owner occupied homes. The turnover rate dipped to 4.8 in 2010 Q3 and was on the rise as the housing market recovered, peaking to 7.3 in 2017 Q1 and Q2. It has since fallen to 6.8 homes in 2018 Q3, as interest rates have increased.
Link to Article
In the 1980s we had roughly twice as many people moving, but rates were dropping precipitously from 18% to 10%, and boomers were much younger. We don't have either of those going for us now, and boomers are still in control of our destiny – could sales keep dropping?