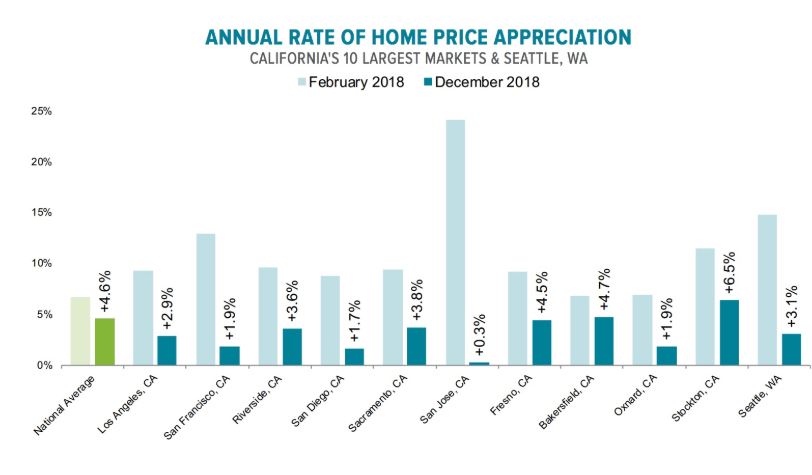 Appreciation is slowing down, and though it looks like San Diego slammed the brakes on between February and December last year, it's nothing compared to San Jose where sellers went through the windshield, figuratively.
The year-over-year increase in our December Case-Shiller Index was +2.3%, and with Black Knight's at 1.7%, let's average and predict 2% appreciation for San Diego in 2019. It means 1/2% per quarter, which sounds pretty flat.
Earlier this week CoreLogic reported that the annual rate of appreciation in January, 4.2 percent, was exactly two-thirds the rate in January 2018.  The Black Knight Mortgage Monitor essentially confirms that deceleration, reporting price increases dropping from 6.8 percent last February to 4.6 percent at year end.
Ben Graboske, president of Black Knight's Data & Analytics division, explained that while home prices are still up year-over-year in all 50 states and the nation's 100 largest markets, slowing is noticeable nationwide and – combined with recent interest rate reductions – is helping to improve the overall affordability outlook.
"At the end of December, home prices at the national level had fallen 0.3 percent from November for their fourth consecutive monthly decline," he said.  "As a result, the average home has lost more than $2,400 in value since the summer of 2018. And while home prices are still up on an annual basis, the slowdown continues nationwide and, importantly, is not being driven by seasonal effects. December marked the 10th straight month of slowing annual home price appreciation."
He added, "With more than 50 percent of areas reporting, early numbers for January suggest we're likely to see more of the same. That said, it's important to keep in mind that annual growth is still outpacing the 25-year average of 3.9 percent – although the gap is closing quickly. Also, it's yet to be seen what impact the recent pullback in interest rates may have on the national home price growth rate.
The slowdown has been especially apparent in the West.  While some interior states are still seeing large gains – Nevada, Idaho, and Utah saw the greatest increases in the nation with Nevada still in the double digits – large metro areas on the coast have seen appreciation rates plummet.
Black Knight looked at the 10 largest markets in California and at Seattle and found that eight of them had seen their appreciation rate cut in half over the previous 10 months and by 70 percent in five of them.  While prices in Washington State as a whole are still increasing by 5.7 percent, Seattle's several year double digit run has evaporated. The annual rate is now 3.1 percent.
http://www.mortgagenewsdaily.com/03062019_black_knight_mortgage_monitor.asp