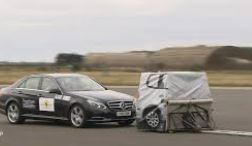 Rob Dawg left this comment regarding the seniors who are aging-in-place:
Wait until autonomous vehicles add another ten years.
Self-driving cars have the potential to change everything about real estate:
Seniors be able to stay in their home longer.
Homebuyers could live farther away and get more home for their money.
Kids wouldn't need parents driving them around.
But one of the big hurdles is whether people will trust computers to drive the cars for them.  You may know that Mercedes-Benz has installed automatic braking systems, and I have one on my car – and hate it.
When I drive up slowly at an intersection, the computer is overly-sensitive, and brakes too early – and it's not gentle. With no warning, the computer slams the brakes on, giving riders a whiplash, and in one case, causing the driver behind to hit me!  The system has a manual turn-off button, but it's hard to find and not permanent so it's a constant battle.  Donna agreed that I've altered my driving considerably, but I'm giving up.  I'm going to get a normal car instead.
More hurdles that will cause autonomous vehicles to be delayed:
Link to Five Factors Slowing Down Self-Driving Cars
~~~~~~~~~~~~~~~~~~~~~~~~~~~~~~~~~~~~~~~~~~~~~~~~~~~~~~~~
Have you seen homes going pending that weren't selling a few months ago?
You could make a case that the market is somewhat seasonal, and just the increase in the number of buyers would improve the market.  But junk is junk, whether you've been looking for days or months.
We already discussed how sellers of newly-listed homes are bursting with optimism now that the selling season is underway.  But those sellers who have been lingering for weeks or months have already tested the market, and should be more realistic.
My theory is that some buyers are cutting deals on the older listings.
~~~~~~~~~~~~~~~~~~~~~~~~~~~~~~~~~~~~~~~~~~~~~~~~~~~~~~~~
Multiple offers are back.  Three examples from the last 24 hours:
One-story house that had been on the market for 30 days (plus Coming Soon)
Two-story house that just listed for $1M in SEH, plus
A contingent buyer around $2 million getting beat out twice to non-contingent buyers.
It is remarkable that in 2019, realtors still don't have rules, laws, procedures, or any effective guidance on how to handle a bidding war so the sellers get the best deal while giving every buyer a fair chance to compete.
But we do have a summary form!  We could do this on a napkin: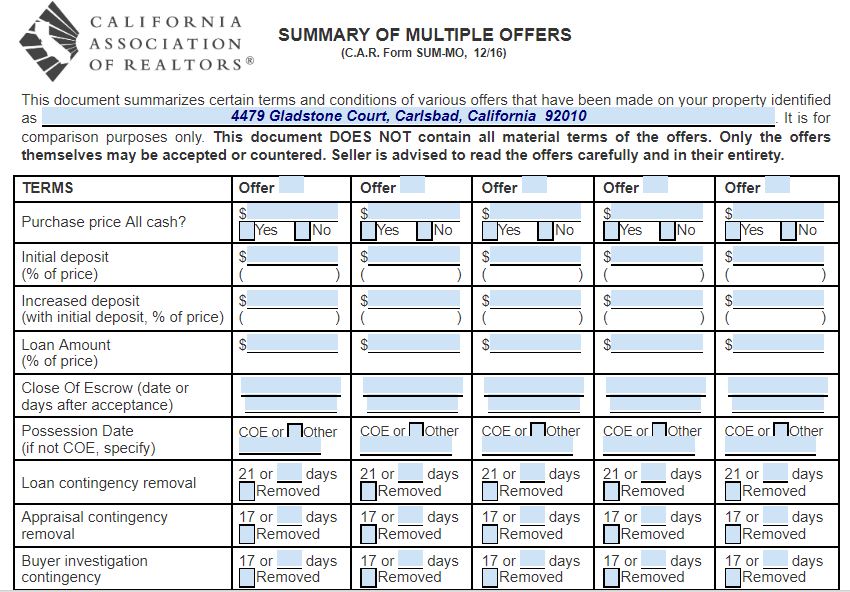 Good luck!