More tidbits, mostly from Leonard's daily Compass email:
Here are some interesting Los Angeles-area market stats:
There were 580 closed sales of $5 million+ in 2018, versus 602 in 2017.
There were 157 closed sales of $10 million+ in 2018, versus 185 in 2017, (down 15%).
43 of these were $20 million+ in 2018, versus 52 in 2017, (down 17%).
19 of the sales were $30 million+ in 2018, versus 23 in 2017, (down 17%).  Both years had 9 sales of $40 million+.
Of the 43 sales of $20 million+ this year, 34 of the buyers were American, (79%).  The other 9 buyers were from Monaco, China, Australia, Saudi Arabia, Switzerland, Japan,
The majority of the 43 sales were in Beverly Hills with 12, followed by Malibu with 9,  There were 5 in Bel Air, 5 in the Sunset Strip, 3 each in BHPO, Palisades, Brentwood and Holmby Hills.
21 of the 43 sales of $20 million+ sales were not officially listed when sold.
~~~~~~~~~~~~~~~~~~~~~~~~~~~~~~~~~~~~~~~~~~~~~~
As soon as this year, employment of people over the age of 55 should peak, after which it should decline for the next 15 years. The same pattern – 23 years of growth for an age bracket followed by 15 years of decline – has played out for every other age bracket that baby boomers have passed through. The age 25 to 34 labor force grew from 1966 through 1989 then declined for about 15 years. The age 35 to 44 labor force grew from 1974 to 1997 then declined for about 15 years. For age 45 to 54, the growth period was from 1984 to 2007. And for age 55-plus the growth wave began in 1996. (Bloomberg)
Older investors, who also own the greatest percentage of equities than any other demographic, may opt for more risk aversion in the decade(s) to come. Over the past 4 weeks, redemptions totaled $164 billion, more than 1% of the money in stock and bond funds, according to Investment Company Institute data. Maybe safer to place that money in real estate? In 2001, 27.8 % of the U.S. population was 55 or older. This will grow to 35.4% in 2019. Yet many elderly people are working longer these days, especially the wealthy….
$1 trillion of China's $24 trillion wealth is held abroad. New tax policies may impact rich Chinese citizens including a new GIFT TAX of as much as 20%. In the past, the rich could avoid paying taxes on overseas earnings by acquiring a foreign passport/green card, while keeping their Chinese citizenship. This won't work starting in January as the government will tax global income from all holders of "hukou" household registrations regardless of whether they have any additional nationalities. New property tax laws are in the works too. (Bloomberg)
~~~~~~~~~~~~~~~~~~~~~~~~~~~~~~~~~~~~~~~~~~~~~
A recent Spectrem survey of U.S. investors with $25 million or more reveals:
Their average age dropped by 11 years since 2014, to 47. These rich Americans, whose ranks have more than doubled since the depths of the Great Recession, are younger than less wealthy millionaires.
The average age of those with at least a mere $1 million is 62, a number that hasn't budged in years.
Investors under 38 attributed their success to "inheritance" and "family connections". But the same proportion also said "hard work" and "running my own business" played a role.
About 70% of the richest investors said they're still working.
Those 65+ hold more than a third of U.S. wealth.
About 172,000 U.S. households have net worths of at least $25 million, up from 84,000 in 2008.
Americans 75+ are the only age group whose median net worth rose from 2007 to 2016, according to the Federal Reserve Survey of Consumer of Finances released in July 2018.
91% of investors with $25 million or more keep assets in a trust.
~~~~~~~~~~~~~~~~~~~~~~~~~~~~~~~~~~~~~~~~~~~~~
While the drumbeat of negative press grows fueling the philosophy that we are entering a recession soon, I recently read an opinion by Goldman Sachs that phrases what is happening right now as something different. The Great Moderation is the name given to the period of decreased macroeconomic volatility experienced in the United States since the 1980s. During this period, the standard deviation of quarterly real GDP declined by half, and the standard deviation of inflation declined by two-thirds. Goldman believes what is happening right now is very similar.
Are the market mechanicals in a different place now compared to previous recessions? Possibly. Certainly the housing sector is in a very different place today than where it was in the last, Great Recession: there is actually a notable under-supply of several classifications of properties, most notably affordable ones. Add to this that pricing has scaled back and interest rates are down 11% off their high's of 2 months ago and no major sub-prime market. This is definitely not the picture we had a decade ago at all.
Equity markets have corrected notably too. Goldman believes the economy of 2019 is built to absorb the kinds of shocks of previous recessions. Only time will tell whether this is correct or not, but maybe we should view what is happening right now as THE GREAT MODERATION, a time when things get re-balanced and corrected based on red flags BEFORE explosions happen.
~~~~~~~~~~~~~~~~~~~~~~~~~~~~~~~~~~~~~~~~~~~~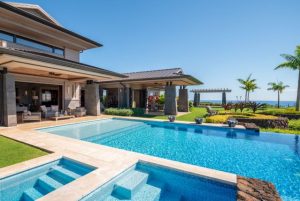 A recent WSJ poll (250,000 votes) to determine which of the 52 homes they featured was the "house of the year", reveals some interesting insights about what a dream house is…. The winning home was a large house in Hawaii. New York and California contributed 36% of the winners. Here are some observations:
Readers preferred homes just outside major metropolitan markets. (sales of luxury properties in small and mid-sized markets were up 14%)
The 1st, 2nd and 3rd runner-ups were located on the outskirts of two Colorado cities.
The median price of the 52 homes was $7 million.
Only 6 of the 52 (11.5%) have sold, all below their asking price.
The attributes of the 'winning home' were: Modern classic-contemporary design, strong indoor-outdoor connection with large windows and walls of glass and multiple terraces, a yoga pavilion, big open protected (water) views, outdoor spa and health-conscious environment, separate guest house, huge pool.