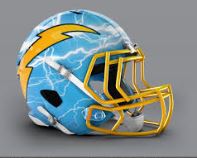 The Chargers – still euphoric from having 7 of their players make the Pro Bowl – lost badly last night, and that should doom the rest of their Cinderella season.  They will probably end up in Pittsburgh or New England for their playoff game, and have a premature ending to their Super Bowl run – and eliminate a potential distraction for our early-2019 housing market.
The stock market should level out early in the new year, after causing mortgage rates to dip into the low-4s, which will be good news too.
All we need is some well-priced inventory, and off we go!
Except for one thing – will sellers and agents remember the Struggle of 2018?
The holidays always provide a nice distraction for all, and help to put some distance between our previously sluggish market conditions and the clean slate of a new year.
We can predict the usual occurrence:
The Top 30% of listings will have no trouble selling.  They are in excellent condition and are priced fairly.
The Bottom 40% of listings won't sell.  It happens like that every year.
It's the Middle 30% that will determine the fate of the selling season of 2019.
The jitters in the stock market should translate over to real estate, and nervous home-sellers will be listing earlier than ever.  We'll probably have a new record high for January listings – which should set buyers back on their heels even more as they wonder who is going to go first.
The Top 30% of listings will be fine and orderly.  It will be how the Middle 30% decide their pricing – are sellers nervous enough that they will resist adding a little cushion to their list price?
No way – the sluggishness of 2018 will be a distant memory, if remembered at all. The higher comps of 6-18 months ago will be used to justify retail-plus pricing, just like always.
There will be mixed messages because those in the Top 30% that sell briskly will make potential sellers think everything is fine again.  But if we see unsold listings are starting to pile up by May/June, it will become obvious to buyers that the Middle 30% needs to adjust their pricing radically if they want to sell.
Sellers should get it done early, before it becomes obvious. The sluggishness started in July this year, and it will probably be back earlier in 2019.
Get Good Help!