Rob Dawg predicted it that any and all appreciation will happen in the first half of the year – and if we're just talking about the general trends in local San Diego pricing, that's how it has been lately.
As the red circles show in the graph above, the non-seasonally-adjusted SD Case-Shiller Index has a history of cooling off in the second half of the year.
Will the same seasonal event happen again in 2018?
Most likely – our June and July index numbers were the same this year, so it's likely to stay flat, or even soften a bit like last year.  But were talking fractions, not big chunks.
The number of sales are another thing, however.  Few sellers NEED to sell, so while buyers might offer less, it takes two to tango.
The CNBC article that tried to paint a negative slant on the New York market included this quote:
"Offers 20 percent and 25 percent below asking prices began to flow in, a phenomenon last seen in 2009," wrote Warburg Realty founder and CEO Frederick W. Peters".
"While few sellers struck deals at those radically reduced offer prices, they signal a major shift in our marketplace, one which has been building for at least 18 months," Peters said.
Sellers aren't going for it.
They might knock off a few points, but unless they are unusually desperate, they are going to sit on their presumed equity and wait until next year if they have to.  Sales would have to grind to a halt for sellers to think about dumping on price.
There will be just enough action to keep the sellers optimistic too.  Here are a set of homes that were marked pending today that could make you think everything is fine:
Another agent has this one, but you saw it here last time around: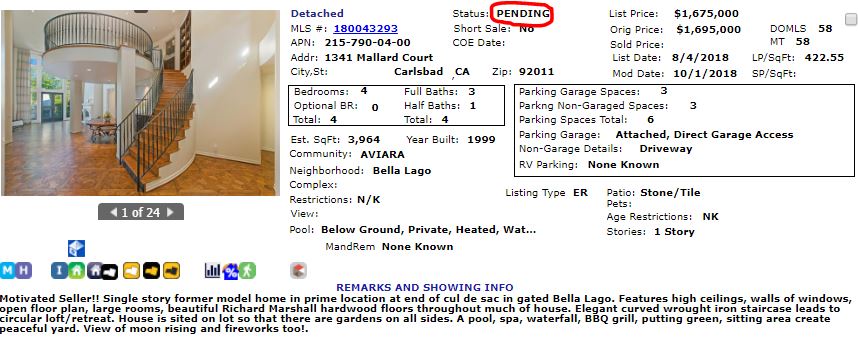 This is in La Costa Valley, which has been starting to show it age when you're talking about 20-year old Carlsbad tract houses now over a million. But this had the updated and appealing look, and the first buyer took it:

My friends in Olde Carlsbad went pending too:

I know they aren't closed yet, and at least one of those will probably fall out.  My point?  The market isn't dead, or even sleeping – it's just finding its way.