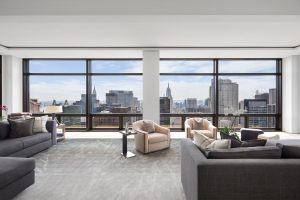 Timing your home's sale is critical – and it helps if your realtor has some 'international reach' too!  Thanks daytrip:
The apartment directly below President Donald Trump's opulent bedroom at Trump Tower is going up for sale for $24.5 million — and it's not clear if POTUS can control who moves in.
In what could be a huge security headache, the stunning apartment 64/65AB at Trump Tower at 721 Fifth Ave. is going on the market. The pad directly adjoins the president's personal gilded apartment, and — real-estate sources believe — his bedroom.
Trump's triplex penthouse — which he is said to prefer sleeping in rather than the White House — occupies floors 66 through 68.
One source said, "What is to stop the Chinese or the Russians from buying the apartment under a front, and then drilling spy holes in the ceiling to listen to the conversations and goings-on?"
Trump Tower is a condo building, which means the legal way the board could stop a potential buyer is by exercising a board waiver, which would entail the board buying the apartment itself, or else it must let the buyer move in, the real-estate sources say.
"It is possible the board could make a potential buyer's life hard by demanding FBI checks or extra paperwork, hoping to chase away the buyer. Or perhaps [White House economic adviser] Larry Kudlow could suggest the country buys it for security reasons." Interestingly, the Chinese government was reported to own property in Trump Tower, which the president handed over to the management of his sons Don Jr. and Eric when he took office.
The for-sale pad is a duplex apartment that encompasses the entire southern face of the building for two stories and features five bedroom suites with soaring 14-foot-plus ceilings. The seller is Oklahoma billionaire Jeff Records, chairman and CEO of MidFirst Bank.
Link to Article