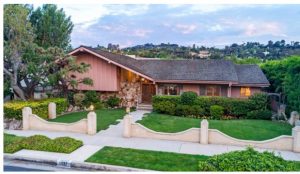 The bidding for the "Brady Bunch" house got down to a horse race, listing agent Ernie Carswell said, but it was HGTV that ultimately pulled away from the pack. So, just how much did the cable network spend to secure the television-famous property? About twice the asking price.
HGTV paid $3.5 million to buy the Studio City residence, or $1.615 million more than the list price of $1.885 million. The sale closed Friday.
The home received eight offers, Carswell said.
The players included stage and television producers, corporate parties and entertainers such as singer-dancer Lance Bass, who was "heartbroken" to learn he had not submitted the winning bid.
All of them planned to keep the home basically intact.
"Every [bidder] intended to retain the front facade as a historic preservation, but most of them intended to renovate the interiors," Carswell said. "No developer submitted a bid for the property."
Link to Article