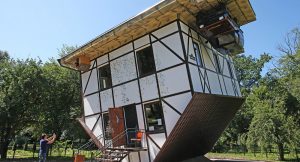 "If the 30-year, fixed-rate mortgage rate increases to 5%, which most economists agree is likely by the end of 2018 or early 2019, the impact on the market potential would be a modest decline to 6.10 million existing-home sales, according to the model," wrote Mark Fleming, chief economist at First American Financial Corporation, the provider of title insurance and settlement services for the real estate market.
He noted that mortgage rates are rising because of positive economic conditions, which means household incomes are also rising, which should offset any increases in borrowing costs. "The housing market is flexible and can adjust to moderately higher mortgage rates without significant impact. The likely rise in mortgage rates is not the worry for first-time home buyers, but whether they can find something to buy in today's supply-constrained market," said Fleming.
~~~~~~~~~~~~~~~~~~~~~~~~~~~~~~
Ivy Zelman on mortgage rates: 'If rates rise, that eats into affordability', and 5.5% on a 30-year fixed-rate mortgage would really start to concern her.
Ivy on home builders: Slightly slower spring season than normal. She says that 59% of builders are seeing price resistance from buyers.
~~~~~~~~~~~~~~~~~~~~~~~~~~~~~~
An agent who has been in the business for three years is sitting on a listing in original condition priced over a million dollars for more than 100 days. He told me he didn't know what to do to get it sold.
~~~~~~~~~~~~~~~~~~~~~~~~~~~~~~
Another agent who has been in the business for seven years told me that she had a $1,000,000 listing sell right away, but can't get anyone to show her two listings in the $500,000s.   She has been averaging two sales per month, but has never seen these market conditions and didn't know what to do.  She is contemplating a new job outside of real estate.
~~~~~~~~~~~~~~~~~~~~~~~~~~~~~~
Kayla makes a cash offer that is a little under the bottom of the list-price range on a house that's been on the market since March.  The sellers counter-offer full price (the high-end of the range), 30-day escrow after we already told the agent that we needed 40 days, sellers to rent back for 30 days for a monthly rental rate that is $500 under market, five days to remove contingencies, and washer/dryer not included but might be negotiable. The listing agent noted that she had a comp.
Buyer passed on it.