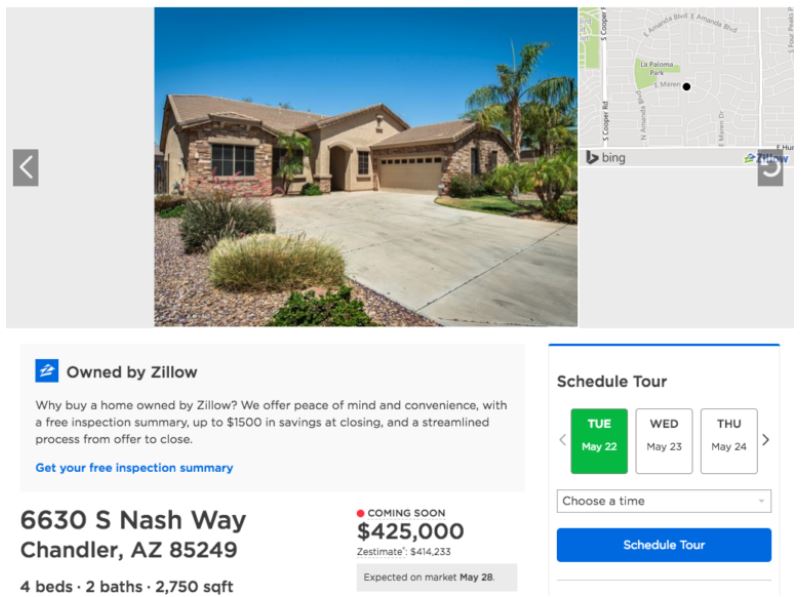 They paid $410,000 and are listing for $425,000? Are they expecting a bidding war?  By the way, OpenDoor has 300 listings in Phoenix already!
Hat tip to daytrip for sending this in – an excerpt:
Noel Levine, a freelance IT consultant and self-described geek, said he looked into other online services like OfferPad and OpenDoor, which the new Zillow program competes against. He was thinking about listing the house with a broker when he saw an article about the Zillow Instant Offers expansion in the local newspaper. Zillow was able to accommodate the quick turnaround. The deal started with a request for an offer on May 3 and closed 15 days later, at a purchase price of $410,000.
"So in two weeks I went from having a house to put on the market to being out of the house with money in the bank," Levine wrote in a thank you note to Zillow that he shared with GeekWire. "It spared me from having to go thru the trials and tribulations of wondering how many showings it was getting, then wondering if I should accept an offer, to dealing with the inspection deductions to worrying about what could go wrong with the closing."
The home is now listed on Zillow with a priced at $425,000 (the Zestimate is $414,233). It boasts "real wood flooring, travertine tile, and stacked stone accents," according to the listing. The company bets that buyers will love the "cozy gas fireplace" and "master retreat."
Link to Full Article